Successful Performercast Going Dark (but I'll be back later…)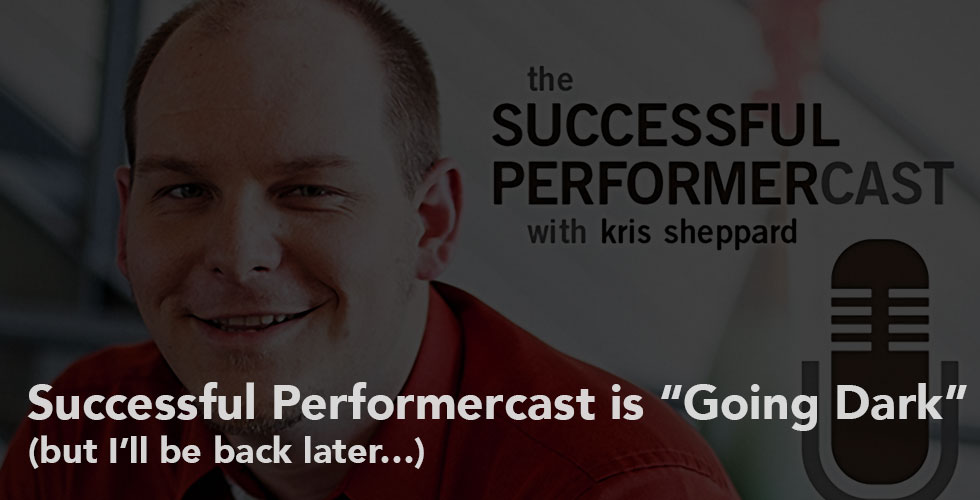 I wanted to announce that I'm "going dark" with this show for a while in order to work on other projects (including one that I'm really excited about with my wife) and to free up some margin in my life as I'm pulling a lot of overtime at my day job.
Funny thing: Of regular episodes, I've done 99, and 99 is a very special number to me. It's the number that Wayne Gretzky wore and he's one of my early heroes in life. One of my favorite quotes by him is "You miss 100% of the shots you never take," and that's exactly what I'm doing with a new project I'm working on with my wife.
As you may have gathered from past episodes, we're huge Disney fans over here and are annual pass holders at Disneyland which we visit frequently. Over the years, we've gotten pretty good at streamlining our visits to get the most out of them which can be a challenge when you have young children, so we've decided to write a book of tips and tricks on visiting Disneyland with young children. We're also going to be launching a supporting podcast offering park tips, tricks, inspiration, and fun, in order to help build an audience. If you'd like to be notified when we launch, you can visit us at gomousescouts.com or email us at fun@gomousescouts.com and we'll be sure to let you know when we launch. It'll be very soon!
Thank you all for listening and for your support. I'm leaving the site open and all the episodes available (see below the break or go to the archives page), so please continue to tell your friends about this free resource at successfulperformercast.com. This isn't a goodbye, but a see you later. I'll be back.
As always, please feel free to drop me a line. You'll always be able to reach me at ks@successfulperformercast.com or on Facebook or Twitter. See you in the future!
Below the break is a running list of all of my interview archives, separated into seasons and easy to scan through. Happy listening!
Season 8 Archives:
S8E14: Joe Monti — Great Advice on Show Business
S8E13: Bill Gladwell — Succeeding with a One Man Theater Show
S8E12: Al The Only — General Practice Magician
S8E11: Steve Chezaday — Tips & Tricks from a Rockstar Magician
S8E10: Angela Parrish — Multiple Streams of Income
S8E9: Fantastick Patrick — Juggling, TV, & Generosity
S8E8: Tom Ameen — Building a Career as a Musician
Bonus: How are Jay Alexander & Christian Cagigal Building the Fog City Magic Fest
S8E7: Katie Marchese — Running a Magic Biz & Working with Her Husband
S8E6: Mario the Magician — Generosity and Making his Own Props
S8E5: Laura Dickinson — Hard Work, Music, and Voice Acting
S08E04: Kenton Knepper — The Power of Words and Nonverbal Communication
S08E03: Nick Paul — Lessons Working with Disney
S08E02: Chris Ruggiero — Juggling Business
S08E01: Annie Banannie — Balloon Storytelling
Season 7 Archives:
S07E12: Avner Eisenberg — Comedy Without Words
S07E11: Jon Armstrong — No Plan B to Magic!
S07E10: Adam Wilber (Ellusionist GM) — Publishing Your Effect
S07E09: Josh London — Internet Marketing Part 2
S07E08: Josh London — Internet Marketing Part 1
S07E07: Richard Ribuffo — Acting for Magicians
S07E06: Carisa Hendrix — Hiring an Assistant and More
S07E05: Chipper Lowell — Comic Magician
S07E04: Seth Kramer — Trade Show Traffic Stopper
S07E03: Keri Kazz — Talks Mentoring and The Danger Circus
S07E02: Alex Clark — Juggling and Web Cartoons
S07E01: Brian Miller — Magically Connecting with your Audience
Season 6 Archives:
S06E12: Thom Britton — The Danger Circus
S06E11: Fielding West — Effective Communication from Stage
S06E10: Fred & Bobbie Becker — Gigs on Ships
S06E09: Brad Ross — How to Market Your Show Business
S06E08: Clay Mabbitt — Sell Out Your Theater Show
S06E07: Brian Campbell — Show Business is Really People Business!
S06E06: Steve Spill — Bar Magic, Magicopolis, and His New Book!
S06E05: Mac King — Vegas Afternoon Magic
S06E04: Jeff Civillico — Juggling & Career Design
S06E03: Ivan Pecel — Comedy Juggling
S06E02: Matthew McCoy — Theater Tips for Magicians
S06E01: Pete Ellison — Assembly Music Shows & Show Operations
Season 5 Archives:
S05E12: Michael Rayner — Juggling & Audience Warmups
S05E11: Shawn Popp — Magic, Music, and ShowCues
S05E10: John Abrams — Assembly Shows
S05E09: Amazing Allison — Corporate Mentalism
S05E08: John Kaplan — Fundraising Magic Shows
S05E07: Julia Othmer — Singer Songwriter Talks about her Successful Kickstarter Campaign
S05E06: Mentalist William Rader talks about selling tickets online!
S05E05: Phil Ackerly talks about losing his day job and then going full time performing magic!
S05E04: David Aiken — the Checkerboard Guy
S05E03: James Galea — a Band of Magicians
S05E02: Norman Ng — Magician Talks About Lifestyle Design & Talent Agencies!
S05E01: Dan Chan — Magic, Kids, and Dinner Shows!
Season 4 Archives:
S04E12: Niels Duinker — Juggler Catching Greatness
S04E11: Daniel Martin — Touring Comedy Magic
S04E10: Brian Glow — Corporate Magic Rock Star
S04E09: Christopher Lyle — Sleightly Delusional Restaurant Magic
S04E08: Dan Holzman — Comedy Juggler
S04E07: Justin Willman — Magician & TV Host
S04E06: Doug Scheer — Themed Magic Shows
S04E05: Dean Hankey — The DEAN of Success
S04E04: Shawn Farquhar — Magician Does Business with Friends
S04E03: Zach Waldman — Magician & Marketing Expert
S04E02: Brian Brushwood — Magician & Internet Celebrity
S04E01: Suzanne — Magician
Season 3 Archives:
S03E12: Katrine Spang-Hanssen — Corporate Juggler
S03E11: John Crist — Comedian
S03E10: Eric Henning — The Financial Wizard
S03E09: CJ Johnson — Hypnotist and Game Show Host!
S03E08: Nick Lewin — Talks Corporate Magic!
S03E07: Show Business Lessons with Jay Alexander
S03E06: Joe Diamond — Magic and Publicity
S03E05: Mark Kornhauser — Casino Magician & Comedy Act
S03E04: Kevin Viner — Corporate Magician & Mind Reader
S03E03: Christian Cagigal — Bizarre Magical Theatre
S03E02: Micah Cover — Magician Makes His Audience the Star!
S03E01: Alex Ramon — Magician Prodigy
Season 2 Archives:
S02E12: Jonny Zavant — Reads Minds as a College Entertainer
S02E11: Jonathan Levit — Magician/Actor
S02E10: Paul Green — Strolling Magician
S02E09: Bizzaro — Optical Illusionist!
S02E08: Scotty Meltzer — Corporate Juggler & Comedy Writer
S02E07: Tony Clark — Magician & Show Producer
S02E06: Lou Serrano — The Magician that's Always Working
S02E05: Michael Eaton — Ninja Restaurant Magic
S02E04: Rick Gerber — Anheuser Busch Master Illusionist
S02E03: Lou Santini — Wants to Make People Laugh!
S02E02: Tiff Jimber — Attaining Musical Goals
S02E01: Josh London—Magician & AdWords Expert
Season 1 Archives:
S01E12: Melanie Devaney—Country Songstress
S01E11: Gabriel Morrison—Voice Actor
S01E10: Scott Marshall—Rude Boy Magician
S01E09: Jason Escape—Escape/Artist
S01E08: Wayne Gonce—More than a Magician
S01E07: Natalie Gelman—Sings with Soul
S01E06: Kostya Kimlat—Business Magician
S01E05: George Tovar—Classics of Magic with a Twist
S01E04: Simon Coronel—Our Favorite Aussie Magician
S01E03: Scott Wells—Corporate Magician to the Energy Industry
S01E02: Lindsay Benner—Juggles from the Heart
S01E01: Shawn McMaster — a Crazy Comedy Magician