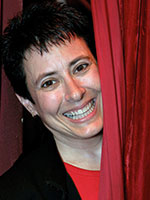 These are show notes taken from an audio interview.
To listen to the actual interview, please use the player above.
In this episode I talk to magician Suzanne! We cover various topics like what she learned studying under Al Schneider and what you can learn about your audience from a horse!
Suzanne is a world class magician and expert story teller from Minneapolis/St. Paul MN!
Using her magic as a vehicle to play with her audiences, Suzanne specializes in performing close-up magic for corporate and private audiences as well as at a number of restaurants in her area. She's also a favorite at the Hollywood Magic Castle where she's been the only female magician to not only be nominated for, but also win Close Up Magician of the Year which she received in 2010. She's also appeared on the covers of Genii and MUM magazines.
She makes shy people shine and bold people laugh.
Jonathan Levit says "Her routines are masked in stories that touch your heartstrings and tie into her mystical imagination."
Success Quotes:
Follow your bliss. — Joseph Campbell
Life should not be a journey to the grave with the intention of arriving safely in a pretty and well preserved body, but rather to skid in broadside in a cloud of smoke, thoroughly used up, totally worn out, and loudly proclaiming "Wow! What a Ride!" — Hunter S Thompson
Failure Moment:
This isn't a failure per se, but Suzanne talks about her struggle with cancer and what she took away from that. She learned how to stand up for herself and how to separate work and personal life. She also tells how magic, her bliss, helper her through this challenging time.
Favorite Success:
Being so accepted at the hollywood Magic Castle.
Lessons from Al Schneider
Suzanne had the opportunity to study under Al Schneider. A couple things she learned from him are in magic, all your movements need to look natural, whether you're putting a coin in your hand or faking it. Also, when you create a moment of magic, give your audience the time they need to fully process what they just experienced. Don't just plow through it. It's very personal to them.
Lessons from a Horse
Believe it or not, there's a lot to be learned about your audience from a horse!
• Magicians can be likened to a predator and the audience, prey.
• Communicating subconsciously.
• Reading body language and adjusting your performance accordingly.
• Putting your audience at ease.
• Be aware of your own body language.
How Does Suzanne Differentiate Herself?
The magic is not about her, it's about how she makes her audience feel.
What's worked best for growing her business?
Word of mouth.
Biggest Professional Challenge
Breaking the preconception of the magician and teaching the lay audience about magic.
What would she have done different?
She wouldn't have tried to do everything. She would have hired people do do things like marketing and other tasks she's not good at.
Interesting Story from Career
Suzanne tells about her first interaction with The Professor, Dai Vernon.
Parting Advice
Always do what you love.
Other Topics Covered
• The importance of having support from your spouse when pursuing your dream.
Recommended books and resources:
Note: Many of the links in this section are affiliate links, meaning we earn a small portion of any sales. If you're enjoying our podcast and decide to purchase one of the recommended resources or books, please consider using our affiliate links to help support the work we're doing here at the Successful Performercast. Thanks!
Resources
Books
Finding Flow by Mihaly Csikszentmihalyi

Where can we find Suzanne?
Suzanne's Black Rabbit Magic DVD
Jonathan Levit's Black Rabbit Magic DVD
Upcoming Restaurant Magic DVD