S8E13: Bill Gladwell — Succeeding with a One Man Theater Show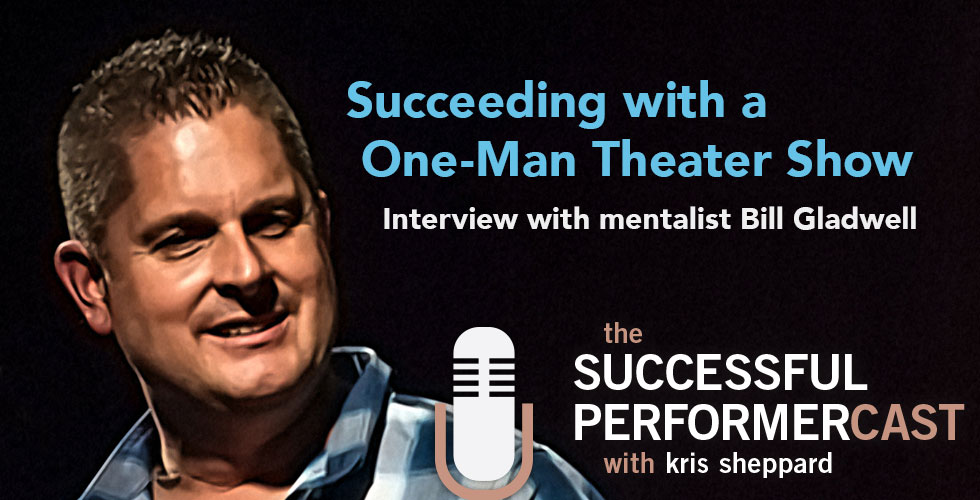 In this interview, Thought Reader Bill Gladwell who talks about the ins and outs of having his own stationary one-man, mentalism show and how he's been able to make it a success.
Bill is a performer who combines his unique skills of hypnosis, NLP, suggestion, psychology, directed awareness, and showmanship to create a fun interactive show that leaves an indelible impression on each of his audiences and has performed for a diverse list of clients from Honda to country music artist Rodney Atkins. He's also a speaker and trainer teaching people how to develop and master strong social skills helping them win at life.
For the last five years, Bill has pretty much stopped traveling in order to produce and perform in his own 75-minute mentalism show, Two Thought Minimum first in Gatlinburg Tenessee and then in Hilton Head, South Carolina.
Finally, I wouldn't be true to myself if I didn't mention his own podcast, "Hey! Look at Me!" where he interviews other entertainers that he comes in contact with during his adventures.
Success Mantra
Doubt kills more dreams than failure ever will. – Susie Castle
If you don't go after what you want, you'll never have it, if you don't ask, the answer is always no, and if you don't step forward, you're always in the same place. – Norah Roberts
Having a Stationary Show
• Tells how he got his first theater show as a mentalist.
• How he was able to tweak his show and improve it from a very rough start.
• Not listening to other magicians and mentalists.
• How Trip Advisor has helped his career.
• How/why he left Gatlinburg for Hilton Head Island.
• Tells how he got feedback from his audiences.
• Listening to his wife. Starting with the end on mind and working back from that.
• How he negotiated with a theater owner to get his dark nights.
• Promoting his show and getting tourists into see show.
• The importance of having a good product.
• How to work with the venue making it a win win for the performer and the venue.
• Back of room sales.
• Using social media avenues to his advantage.
• Building email list.
• His USP.
• How he keeps in contact via email.
• How he sells tickets.
• Challenges of working in a theater.
• Rebuilding his show and following in Hilton Head Island.
• Don't be afraid to give tickets away to get things done.
• Interacting with press and getting coverage.
• Working with other companies and businesses to cross promote.
Other Topics Covered
• The power in asking.
• Lessons from Girl Scout cookie sales.
• Asking for the close.
• How a Tony Robbins event changed his life.
• Talks about how he did an impromptu stage hypnosis show that started him out in performing.
• Finding material that fits you.
• Don't do things like everyone else. Make it entertaining.
• Recording your show.
• It's not about you, it's about giving your audience a good time.
• How pricing yourself too low can cost your gigs.
Failure Moment
Tells why he now collects his fee up front.
Favorite Success
His Trip Advisor reviews.
Getting his wife to marry him. ? ??????
Parting Advice
Be bold. Not only on stage, but off stage.
Three foot rule: If anyone gets within three feet of you, you have to tell them what you do and give them a card.
Recommended books and resources:
Note: Many of the links in this section are affiliate links, meaning we earn a small portion of any sales. If you're enjoying our podcast and decide to purchase one of the recommended resources or books, please consider using our affiliate links to help support the work we're doing here at the Successful Performercast. Thanks!
Resources:
Just Press Record iOS app
Books:
Born Standing Up by Steve Martin
The Sales Bible Jeffrey Gitomer
Also mentioned
WellAttended

Where can we find Bill Gladwell?