S3E9: CJ Johnson — Hypnotist and Game Show Host!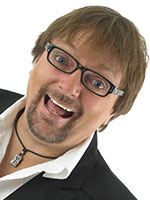 These are show notes taken from an audio interview.
To listen to the actual interview, please use the player above.
In this episode, I talk to CJ Johnson about his career in magic, hypnotism, and being a game show host! He talks about his approach to business and tells us how he found balance between work and family.
CJ Johnson is a magician, mentalist, hypnotist, and a game show host! He's also author to more than a dozen books and self-hypnosis CD's which includes his super popular book "More Shows, More Money" which has been credited to helping countless magicians take their passions full-time.
CJ is certainly qualified to teach this, as he maintains a full calendar traveling the country performing his shows as well as managing teams for his six touring "Game Shows to Go."
When he's not performing, he enjoys kiteboarding and flying precision stunt kites, but nothing is more important to him than being with his family, just outside of Austin TX.
This guy exudes entertainment and success.
Success Mantras:
A man is only as good as his word.
Work hard, be nice.
Failure Story:
CJ Tells us a story about a mishap he had involving a cell phone and what he thought was a telemarketer that cost him a gig.
Favorite Success:
Relationships. If wealth be measures in friendships, CJ is the richest man in the world!
CJ's Thoughts on Business
• Work harder than anyone else.
• Under-promise, over-deliver.
• Figure out how you can make things scaleable.
• Take care of the people that work for you.
• The longer you're in business, the easier things happen.
• Maintain good relationships the people you do business with.
• Call to check in with your business connections (clients and business partners alike) in genuine ways. (Congratulations, birthdays, etc).
• Every one of his "big breaks" has come from a relationship with someone.
• You can get anything you want in life if you'd just help enough people get what they want in life. —Zig Ziglar
How CJ Found Balance Between Work and Family
• How important it is to have a supporting spouse.
• He did what he could to be home for family, even if it meant buying a plane ticket.
• Had an offsite office.
• Ate dinner with family every night he was home and NEVER had the TV on during dinner.
• Capitalized on every opportunity to be with his family.
How Does CJ Differentiate Himself?
Having a clean show and being day to work with.
What's been CJ's Biggest Professional Challenge?
Cash flow.
Parting Advice
• Work hard, be nice.
• Never underestimate what you can learn from other people.
• When you're at a magic convention, quit posturing!
More Shows More Money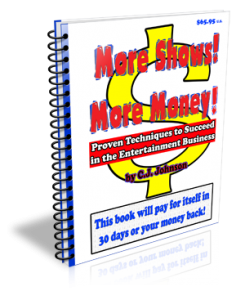 Proven techniques to succeed in the entertainment business!
This is the book C.J. is known for among magicians, clowns, ventriloquists, mentalists and others who make their living as entreprenurial entertainers.
If you charge people money for shows – or would like to. This book will pay for itself in 30 days or C.J. will give you your money back.
These are real world tools and techniques that C.J. has used to make an exceutives salary for the past 20+ years.
Find out more at www.moreshowsmoremoney.com
Note: I don't get any reward or kickback for recommending this book. I also don't personally own it but have only heard great things about it. 
If you decide to buy it, please be sure to tell CJ you heard about it from the Successful Performercast. 
Recommended books and resources:
Note: Many of the links in this section are affiliate links, meaning we earn a small portion of any sales. If you're enjoying our podcast and decide to purchase one of the recommended resources or books, please consider using our affiliate links to help support the work we're doing here at the Successful Performercast. Thanks!
Resources
Kerry Pollock's Showtech – Wireless Remote Controlled Sound System
Pond5.com – Stock photography and video
Digital Juice – Stock graphics, video, music, and animations.
Flipping Typical – A way to explore the popular typefaces you have on your computer.
Self Development Books
The Richest Man in Babylon by George S. Clason
See You at the Top by Zig Ziglar
Awaken the Giant Within by Tony Robbins

Magic Books
Device & Illusion by Jim Steinmeyer
Where can we find CJ Johnson?