S2E11: Jonathan Levit — Magician/Actor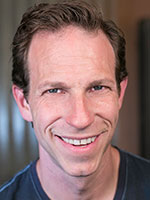 These are show notes taken from an audio interview. To listen to the actual interview, please use the player above.
Jonathan Levit is like the joker in a pack of cards. Magician. Actor. Television Host. Emcee. Producer. Consultant. Lecturer. These are all hats that he's worn throughout his career and he's been able to weave his love for magic throughout all his creative endeavors.
He's traveled the country performing magic for private parties and on cruise ships. He's a frequent performer at the Hollywood Magic Castle. He's consulted for television and movies teaching the likes of Steve Carell, Jessie Eisenberg, Jack Davenport, David Duchovny, and Olivia Wilde how to do magic.
You might recognize him from some of his guest star roles on The X Files, FlashForward, The Others, and the Huntress, or as a host for The Discovery Channel, The Science Channel, The Biography Channel, or on VH1's Celebrecadabra.
I think Teller, from Pen & Teller says it best, "Jonathan is funny, elegant, and disturbingly smart. Like something cuddly with really sharp teeth."
Success Quote:
Never stop creating. – Jonathan Levit
A Moment of Failure:
Tells about a time where he hadn't prepared well enough for introducing a new trick into his repertoire. He ended up sufficiently bombing. Listen to the show for the full story and what he took away as a lesson.
Favorite success:
Jonathan is most proud of whatever he's working on at that time.
Consulting for TV and Film
Jonathan talks about what goes into consulting for TV and film and then gives some ideas for those who might want to start doing the same.
How does Jonathan differentiate himself?
Being a magician in the acting world had really helped him to stand out.
Interesting Stories
Hear about the time that Jonathan got pulled over and then frisked in front of a cop car at 2am while traveling for a TV show back East.
Other topics touched upon:
• Creating helps us to feel like we're contributing something to the world around us.
• How do deal with discouragement when projects we're working on don't pan out.
• The importance on reflecting on your past.
Parting advice:
Develop a good memory in remembering names, lists, etc. Also, keep up with current events and common interests so you can be a better conversationalist and be more relatable.
Recommended books and resources:
Note: Many of the links in this section are affiliate links, meaning we earn a small portion of any sales. If you're enjoying our podcast and decide to purchase one of the recommended resources or books, please consider using our affiliate links to help support the work we're doing here at the Successful Performercast. Thanks!
Resources
Notes. Always write down your ideas. Write down everything.
Book
Find the Stuff That's You by Chris Carey

Where can we find Jonathan Levit?
Jonathan Levit's Official Site
Black Rabbit Magic Series – Jonathan Levit
C4 — The ultimate color changing card case
Here is the C4 trailer.