S1E6: Kostya Kimlat—Business Magician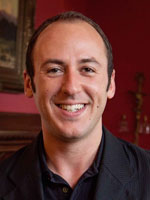 These are show notes taken from an audio interview. To listen to the actual interview, please use the player above.
Kostya Kimlat is a magician based out of Orlando, Florida, and is one of the official magicians of the Orlando Magic basketball team. Listen in for a look into his business mind!
Favorite quote
There is no magic to magic. It's all in the details. — Walt Disney
Going full time
Kostya shares how he took his passion full time and goes into the elements that need to be in place before you should quit your job.
Unique selling point
Being true to himself and his audience has helped him differentiate himself.
What would he have done different?
He would have trusted himself more and not let other people's insecurities effect him.
Interesting story from the road
Imagine that you shipped large stage illusions for a show you and your team have been hired to perform in the Canary Islands. That shipment never arrived. What do you do? Listen to find out what Kostya did.
Other topics touched upon:
• How to correctly pronounce Kostya. It's harder than you think! Or is it?
• Growing your business by investing in training, knowledge, people, and services.
• Letting others do what they're good at (graphic design, accounting) so that you can do what you're good at, performing. "Your willingness to spend should reflect your confidence to earn."
• Talks about a day in the life, and how he knows he's living a fulfilling life.
Parting advice:
Put down your ego. We're all doing the same thing (performing), let's get over ourselves, raise our standards and work hard.
Recommended books and resources:
Note: Many of the links in this section are affiliate links, meaning we earn a small portion of any sales. If you're enjoying our podcast and decide to purchase one of the recommended resources or books, please consider using our affiliate links to help support the work we're doing here at the Successful Performercast. Thanks!
Maximum Entertainment by Ken Weber
The ONE Thing: The Surprisingly Simple Truth Behind Extraordinary Results by Gary Keller

Resources:
The library and your local Chamber of Commerce.
Where can we find Kostya?