S8E7: Katie Marchese — Running a Magic Biz & Working with Her Husband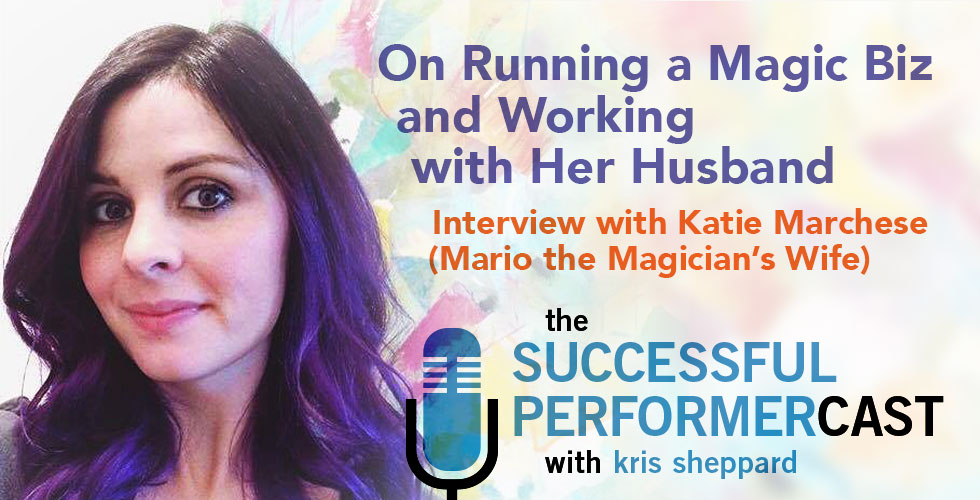 Last week I interviewed Mario the Magician. Katie is his wife and other half. She works with Mario as a team and handles all the business and marketing aspects of their business. If there's one thing I've learned, it's essential for your spouse to be onboard and supportive of your entrepreneurial efforts, and this week, we're diving into that very perspective!
Show Sponsors:
ManageGigs: ManageGigs helps you keep track of all of your gigs online, without having to resort to spreadsheets. Click here to check them out and sign up for your free seven day trial!
Audible: For Performercast Listeners, Audible is offering a free audiobook download and a free 30-day trial to give you the opportunity to check out their service. Click here to check it out!
Interview with Katie Marchese:
Success Mantra
Define your normal.
Katie's Take on Their Business
• How children change the dynamics of things, even in business.
• Gives her take on how they built their business and took it full time.
• Going for things 100%.
• Talks about initial marketing efforts, how they've changed and how they look now.
• Dealing with rejection.
• Letting go of things that don't work in favor of giving new things a chance.
• Being diverse vs niche-ing down.
• Knowing what you're strong at and not trying to be "everything to everyone."
• The stigma of children's performers.
• Connecting with both kids and adults.
Katie's Business Responsibilities
• Takes care of booking inquiries,
• Running social media, scheduling posts.
• Reaching out to various outlets and possible venues.
• She does all she can so he can focus on his performing.
Thoughts on Social Media
• Talks about how things have changed with social media and how now they're trying to engage people in their story. Business and personal life are now connected.
• People want to know "your story."
• People do business with their friends and social media helps proper to know their business connections better.
• People also want to feel like they're supporting something. If they feel like they're connecting with you on a personal level, when they do business with you they have a stronger feeling of supporting you.
Challenges & Blessings of Working with Spouse in Business
• Hard to turn things off when the work day is "done."
• Not having specific business hours.
• Scheduling "work" conversations.
• It brings them closer together because they're working as a team.
• Possibility of including their kids in the business in the future.
• They try to expose the kids with the family business as much as possible while still being sensitive of their needs and desires.
• Disconnecting from business at the end of the day.
• Having a schedule that helps them to have routine and then unwind.
• Not taking things personally.
• Celebrating together.
• Getting to work with someone you love.
Failure Moment
Talks about a tour they planned that flopped spectacularly!
Learned not to force things but to let things happen smartly and organically.
Katie shares how they might go about that today.
Favorite Success
Their Kickstarter campaign that got funded and raised $36,000 allowing them to do a featured length documentary telling Mario's story which is now playing at film festivals.
Talks about how they approached their Kickstarter campaign.
• Reached out to local supporters.
• Outreaching to people in the different communities they're a part of.
• Talks about some of the rewards they did for backers.
Biggest Professional Challenge
Letting go and delegating.
Is there anything they would have done differently?
Getting to the point they're at right now faster.
Parting Advice
Don't make decisions based on what others think you should do but based on your own research and convictions.
Exclusive Content for Patreon Supporters

This weeks episode is the full interview, but often times I go longer than an hour and therefore have to cut the interviews down to be an hour or less. Patron supporters get access to the full uncut versions of these interviews and often times, a few days before the official episode is released. If this interests you, please consider supporting me on Patreon.
Recommended books and resources:
Note: Many of the links in this section are affiliate links, meaning we earn a small portion of any sales. If you're enjoying our podcast and decide to purchase one of the recommended resources or books, please consider using our affiliate links to help support the work we're doing here at the Successful Performercast. Thanks!
Resources:
Her iPhone in general. She's able to do business from her phone.
Books:
The Irresistible Revolution by Shane Claiborne

Where can we find Katie and Mario?