S4E12: Niels Duinker — Juggler Catching Greatness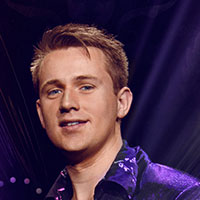 These are show notes taken from an audio interview.
To listen to the actual interview, please use the player above.
In this interview, Niels Duinker talks about how he's been able take his passion of juggling and make it into a career. He also talks about how been able to use his degree in mechanical engineering!
Niels Duinker is a comedy juggler from the Netherlands.
Niels has taken his juggling around the world earning him many accolades including Gold Medal in the 2009 Taiwan Circus Festival, multiple Gold Medals at the National Juggling Championships, Variety Act of the Year in 2012 from the International Magicians Society, and he's a three-time world record holder in the Guinness Book of World Records.
He boasts quite an impressive resumé performing at top casinos, cruise lines, theme parks, and festivals as well as for clients like Coca Cola, Intel, Mitsubishi, and IKEA.
Finally, Niels also teaches what he's learned in juggling as well as in life when it comes to pursuing your dream in lectures, DVDs, and his book, "Catching Greatness."
Success Quote:
Make yourself a little bit better every day.
Failure Moment
Niels tells how he missed a gig because of a nap and a time difference.
Favorite Success
Finally being able to nail something he's been woking on.
Differentiates Himself
Getting away from standard props.
Niels on Prop Design
• Talks about designing shaker cups specifically made for juggling.
• Building prototypes.
• Using his mechanical engineering degree.
• Having a list of objectives to achieve with new design.
Worked Best in Growing Business
Showing up every day, working hard, and being faithful.
Biggest Professional Challenge
Coming up with new goals after attaining all of his current ones.
Interesting Story
Niels tells us an interesting story of a photo he printed and looked at every day and how it eventually became a reality in his own life.
Other Topics Covered
• How he approached cruise lines.
• Getting help from other people.
• How his parents were supportive but also how they pushed him to help him grow.
• Making things happen for yourself.
Parting Advice
Improve a little more each day.
Recommended books and resources:
Note: Many of the links in this section are affiliate links, meaning we earn a small portion of any sales. If you're enjoying our podcast and decide to purchase one of the recommended resources or books, please consider using our affiliate links to help support the work we're doing here at the Successful Performercast. Thanks!
Resource:
A notebook and pen, or the notes app on his phone.
Dan Holzman's Brain Drizzles Coaching
Books:
Joanie Spina's "Get Your Act Together"
Catching Greatness by Niels Duinker

Where can we find Niels Duinker?