S8E5: Laura Dickinson — Hard Work, Music, and Voice Acting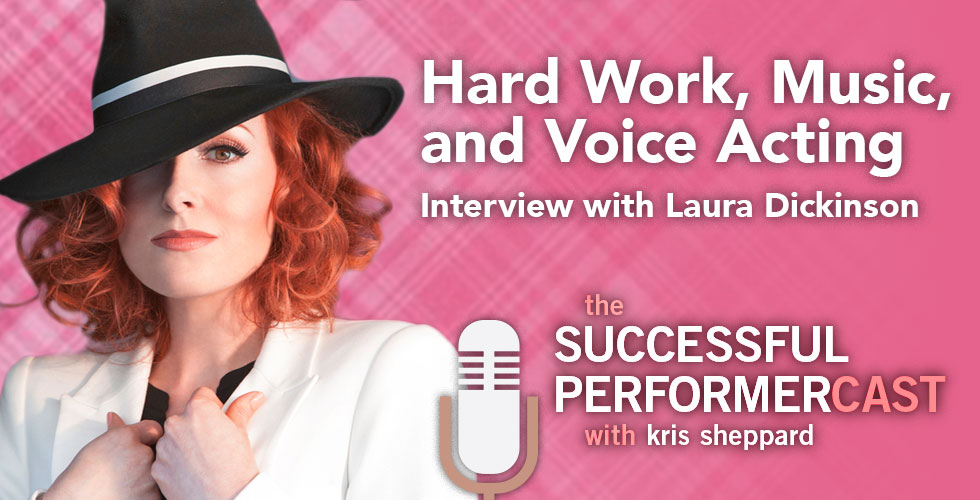 In this episode, voice actor and musician Laura Dickinson brings us insight into how she's made it as a voice actor for Disney Animation and how good old fashioned hustle can really take you the distance.
Laura makes her living as a full-time musician, contracting for Disney providing singing voices for animated characters on Phineas & Ferb, Jake & the Neverland Pirates, and Sofia the First. Essentially, "your nine-year old daughter's favorite singer." You've also heard her voice on Pitch Perfect, Modern Family, and Supernatural.
When she's not bringing her character acting talent, she's also a frequent live performer fronting her own 17 piece big band and opening for names like Tony Bennett and Lyle Lovett.
She's also recently released her debut album, One for My Baby – To Frank Sinatra With Love, which is a beautifully done and wonderfully arranged homage to Ol' Blue Eyes.
Show Sponsors:
ManageGigs: ManageGigs helps you keep track of all of your gigs online, without having to resort to spreadsheets. Click here to check them out and sign up for your free seven day trial!
Audible: For Performercast Listeners, Audible is offering a free audiobook download and a free 30-day trial to give you the opportunity to check out their service. Click here to check it out!
Interview with Laura Dickinson:
Success Mantra
Happy to be here, easy to work with.
Voice Acting
• Talks about how she got involved working with Disney animation and voice acting.
• What it's like collaborating with musicians and producers and being able to anticipate needs, etc.
• If you can find someone you can count on and work easy with, you'll work with them forever.
• Challenges of singing in the voice of a fictional, cartoon character.
• Always tries to ask a lot of smart questions.
• Adaptability and flexibility are her biggest takeaways from working with Disney.
• Working on people's "babies." Creative pieces that their creators care about.
Failure Moment
Talks about how early in her career, not being as socially adept as she is now, she started talking trash about the show director and the casting director just as they walked in.
Favorite Success
Being a part of Phinneas & Ferb which opened up a lot of doors for her.
Other Topics Covered
• Working with other musicians who have different schedules
• Filling in for other musicians (it's kind of like an understudy kind of thing)
• How she got her real education performing for Disney in their theme parks.
• Talks about how she "moved up the ranks" for Disney and started performing.
• Find what you really love doing and find a way to make a living at it.
• Always being the best representation if yourself.
Exclusive Content for Patreon Supporters

 The uncut version of this interview is available to Patreon Supporters and includes about 10 minutes of additional content. Please consider supporting me on Patreon. 
In the Patreon-exclusive content you'll find:
• Talks about first band she had a part in and how she decided she wanted to become a professional performer.
• Talks about some of the things she did to start drumming up business in performing full time.
• You have to be ready to be told "no" all the time. Rejection is a big part of show business.
• Talks about why and how she formed her current band.
• Talks about some of the many factors that goes into booking a performance with her band.
Recommended books and resources:
Note: Many of the links in this section are affiliate links, meaning we earn a small portion of any sales. If you're enjoying our podcast and decide to purchase one of the recommended resources or books, please consider using our affiliate links to help support the work we're doing here at the Successful Performercast. Thanks!
Resources:
The Internet. It's amazing how helpful the internet can be for your business. Plus, make sure you have all your media in order on the internet so it's easy for people to find and hire you.
Books:

Laura's New Album!
Check out Laura's new album, One for My Baby, to Frank Sinatra with Love!
If you're a Sinatra fan, you're absolutely going to love Laura's take on some of his most famous songs. I know covering Sinatra is gutsy undertaking, but Laura absolutely nails it!
Where can we find Laura Dickinson?
Facebook | Twitter @elsielaura | Instagram | Spotify | Pandora | Youtube