S2E8: Scotty Meltzer — Corporate Juggler & Comedy Writer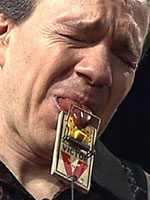 These are show notes taken from an audio interview. To listen to the actual interview, please use the player above.
Scotty Meltzer is a computer science geek and ex-IBMer, turned entertainer who now rides a unicycle juggling knives and escaping from straight jackets for a living.
He is the head writer and one of two principal performers for his company Comedy Industries which specializes in creating custom presentations for trade shows, training sessions, sales meetings, and other corporate applications. Some of his clients include Apache design, HP, IBM, Netgear and Seagate, many of which have hired him upwards of 30 times!
In addition to this, Scotty also writes a monthly column where he talks about writing comedy for jugglers and other variety acts. A seemingly hidden treasure trove on the internet of great advice for anyone wanting to add comedy to their act, or even just be funnier in life!
Success Quote:
Start every show at zero. — Scotty Meltzer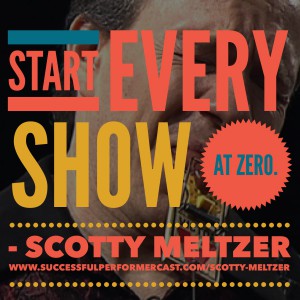 A Moment of Failure:
Scotty tells us about a few of his failures including the time he was hired to open for Robin Williams…and then didn't show up.
Biggest success:
Never having to go out to get a "real job."
How does Scotty Differentiate Himself?
He writes custom scripts fast for his clients for training sessions and trade shows, memorizes them and performs them.
Scotty's Thoughts on the Corporate Market and Writing Custom Scripts
• Scotty goes into great detail on how he writes custom scripts for his clients incorporating their message and then adding comedy.
• Talks about what he thinks the biggest challenge: breaking into the corporate market. Then tells how he did it.
Is there anything he would have done differently up to this point?
Let go of perfectionism earlier. Ironically, he gives an exercise to help you measure the comedic value of your show, in order to make it more…perfect.
What's working for him business-wise?
Answer every call, email, and Facebook show inquiries immediately. When you respond so quickly, your name is elevated to the top of the list of anyone else they might be in contact with.
Interesting story from his career:
Hear about the time Scotty was up on a (tall) unicycle in a straight jacket, trying to escape, keep his balance, and not run over the $300 ear prompter that just fell out of his ear. Oh, he was also trying to remember his script since he didn't have the ear prompter anymore. 🙂
Other topics touched upon:
• His favorite lie on his bio and his seemingly useless degree in computer science.
• Scotty's view on whether or not one can really make a living as an entertainer.
• Tells his approach to adding comedy to his act.
• "Everything that I've succeeded on has been built on a solid foundation of failure."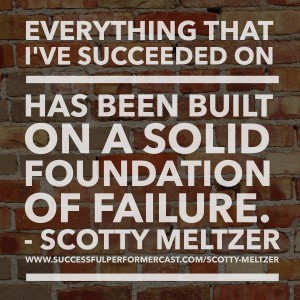 Parting advice:
Scotty shares a fresh approach to brainstorming that will no doubt make a difference in your own creativity.
Recommended books and resources:
Note: Many of the links in this section are affiliate links, meaning we earn a small portion of any sales. If you're enjoying our podcast and decide to purchase one of the recommended resources or books, please consider using our affiliate links to help support the work we're doing here at the Successful Performercast. Thanks!
Resource
Video editing software. Learn how to edit your own videos.
Performance Specific Book
Step by Step to Standup Comedy Workbooks by Greg Dean
Workbook 1: How to Write Jokes
Workbook 2: How to Improve Jokes and Routines
Workbook 3: How to Remember Jokes Naturally
Workbook 4: How to Be a Funny Performer
Workbook 5: How to Get the Experience to Be Funny
Scotty Meltzer's Articles on Comedy Writing

Where can we find Scotty Meltzer?
Comedy Industries: Expert Trade Show Presenters
Scotty Meltzer's Articles on Comedy Writing