S2E9: Bizzaro — Optical Illusionist!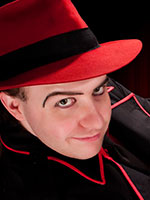 These are show notes taken from an audio interview. To listen to the actual interview, please use the player above.
Bizzaro is a stage magician living in Las Vegas and is one of the craziest and most original performers I've ever seen!
Drawing inspiration from acts like Penn & Teller and Rudy Coby, he's performed coast to coast, appeared countless times on television, and has worked with the likes of musicians Meat Loaf and Rob Cantor.
Bizzaro is very skilled in constructing strange and unusual props for his act and for the acts of others, and also offers creative direction and coaching in general for other's acts in order to make them better performers.
To him, "Normal" is just a setting on a dryer.
Success Quote:
Be whoever you are. — Fred LeBlanc (of band Cowboy Mouth)
A Moment of Failure:
Bizzaro had some very humble beginnings, like performing a full silent act for only two people.
Biggest success:
Having the opportunity of working with singer Meat Loaf.
How does Bizzaro differentiate himself?
He wears a fedora! Kidding, he has a very specific character and identity that makes him stand out from others.
What's worked well for him business-wise?
Getting out there, performing, and being seen.
Bizzaro's Approach to Creativity
• Ask the question, "Wouldn't it be funny if…?"
• Be aware when and where creativity shows up most for you and be prepared for it.
• Learn about the weld around you.
• Don't "think like a magician."
Interesting story from the road
Bizzaro tells us a compilation of tour stories including a story about the tour bus that he's convinced was actively trying to kill everyone in their variety troupe!
Has Bizzaro "made it?"
Yes, the fact that he's able to make a living performing and live comfortably, is his gauge for success.
Other topics touched upon:
• Talks about how hard work is required in order to "make it work."
• Tells how he moved out to Las Vegas and what not to do.
• The best place to start is right where you're at.
• Talks a little about coaching and some things performers can do to improve their act.
• What gets you into magic and the reason you stay in magic are two very different things.
Parting advice:
Perform everywhere you can, be whoever you are, but don't be a jerk.
Recommended books and resources:
Note: Many of the links in this section are affiliate links, meaning we earn a small portion of any sales. If you're enjoying our podcast and decide to purchase one of the recommended resources or books, please consider using our affiliate links to help support the work we're doing here at the Successful Performercast. Thanks!
Resources
Go Button iOS App
iJet Remotes – Remotes that will work in conjunction with the Go Button App
Performance Specific Book
Foundations : The Art of Stage Magic by Eberhard Riese
Business Book
The Tipping Point: How Little Things Can Make a Big Difference by Malcolm Gladwell

Where can we find Bizzaro?
Bizzaromatic.com – products for magicians
BizzaroByDesign.com – Creative Direction & Prop Construction
Bizzarovision.tv – Coming Soon
Twitter @Bizzarotheoi | Facebook | Youtube | Instagram