S2E2: Tiff Jimber — Attaining Musical Goals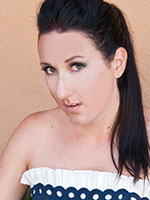 These are show notes taken from an audio interview. To listen to the actual interview, please use the player above.
Tiff Jimber is a singer/songwriter in Los Angeles whose influences include Sara Bareilles, Ben Folds, Billy Joel, John Mayer, Nina Simone and Adele. She also knows what it takes to make a dream come true as she books all her own tours, plays over 100 shows a year and handles all marketing and scheduling, all while meticulously crafting her songs.
I'd also like to point out that she shares step by step how she set goals and followed through in order to get her music played on television. Listen in to hear her story!
Success Quote:
Ten thousand hours felt like ten thousand hands
Ten thousand hands, they carry me—Macklemore and Ryan Lewis
(Based off of Malcolm Gladwell's book Outliers where he talks about the 10,000 hour rule which states that it takes 10,000 hours of practice in order to master something.)
Failure Moment:
Tiff takes us to her first tour where she ended up losing money and living in her car. This drove her to learn about the business side of things so this wouldn't happen again.
Biggest success:
Making it into the semifinals of the Mountain Stage Songwriting Contest.
Unique selling point:
She sets herself apart by being goofy onstage. She's not very timid and will often times just act like "one of the guys."
What's working for her business-wise?
Writing down her goals and working backwards in order to attain them.
It's in this section where I ask Tiff to really drill down into her approach to goals. She takes us into a real world example where she worked backwards from her goal to get her music played on television.
What would she have done differently?
She would have reevaluated herself and her progress more regularly.
Interesting story:
She talks about how she often sees the same people on the road and the kindness of people that she encounters.
Other topics touched upon:
• Ways you can achieve balance between your work life and your personal life.
• Asking for the sale.
• If you're doing something you don't like or enjoy, stop it! Just stop it!
Parting advice:
Set goals, write them down, and look at them every day.
"You become what you think about most of the time." — Earl Nightingale
Recommended books and resources:
Note: Many of the links in this section are affiliate links, meaning we earn a small portion of any sales. If you're enjoying our podcast and decide to purchase one of the recommended resources or books, please consider using our affiliate links to help support the work we're doing here at the Successful Performercast. Thanks!
Performance Specific Book
Scar Tissue by Anthony Kiedis
Writing Better Lyrics by Pat Pattinson
Non-Performance Specific Book
Guerilla Marketing by Jay Conrad Levinson
6 Steps to Free Publicity by Marcia Yudkin

Resources:
musicdealers.com – music licensing company
Buy Tiff's Latest EP "The Foundation"
Where can we find Tiff?
Facebook | Twitter @tiffjimber | YouTube