S2E4: Rick Gerber — Anheuser Busch Master Illusionist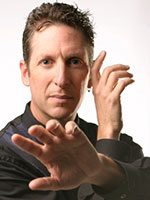 These are show notes taken from an audio interview. To listen to the actual interview, please use the player above.
Rick Gerber is the official Anheuser-Busch Master Illusionist. He's performed in all 50 states and more countries than most people can name. Listen in to hear all about what it really takes to be a corporate magician, as well as some fun stories, one of which may include Frank Sinatra and Ray Charles!
Success Quote:
You can be cheap and good, or you can be expensive and worth it. Once you're cheap and good, you can never become expensive and worth it.  — Sanford Gerber (Rick's Dad)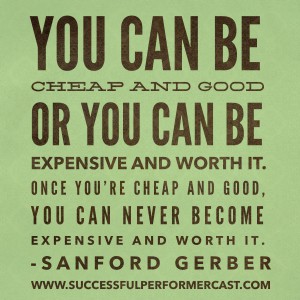 A Moment of Failure:
Rick tells us about a couple moments, one in which he mispronounced a client's name, and another where he was inside a stage illusion that ended up not working.
Biggest success:
Holding onto one client (Anheuser Busch) for over thirty years through numerous regime changes.
What's working for him business-wise?
Rick doesn't wait for things to happen for him, he creates his own opportunities. He also reads a lot of books on business to keep up on trends and to be able to speak the corporate language.
Other topics touched upon:
• Tells his story of how he got into magic and then got discovered by Anheuser Busch while he was performing magic behind the bar at a TGI Fridays.
• A day in the life of a corporate magician which involves telephone sales, performing, driving, and selling spirits.
• What is means to be a corporate magician: It's not just performing, his job is to help sell more of his client's products.
• Some misconceptions about corporate magic.
• How to demonstrate your value to your client in order to keep your job or book repeat business.
• The approach he used for table tent signs when he used to work in restaurants.
• Being confident in your skills and preparation and how that plays into opportunities the come your way.
• A hilarious story of how he pulled one over on Frank Sinatra with a little help from Ray Charles!
Parting advice:
Be the best you can be and always strive to be extraordinary. Anything less will make you a commodity.
Recommended books and resources:
Note: Many of the links in this section are affiliate links, meaning we earn a small portion of any sales. If you're enjoying our podcast and decide to purchase one of the recommended resources or books, please consider using our affiliate links to help support the work we're doing here at the Successful Performercast. Thanks!
Performance Specific Book
Tales from the Uncanny Scot by Ron Wilson
Non-Performance Specific Book
Trading Up: Why Consumers Want New Luxury Goods–and How Companies Create Them by Michael J. Silverstein

Resources:

Where can we find Rick Gerber?
Rick Gerber's official website