S7E3: Keri Kazz — Talks Mentoring and The Danger Circus
These are show notes taken from an audio interview.
To listen to the actual interview, please use the player above.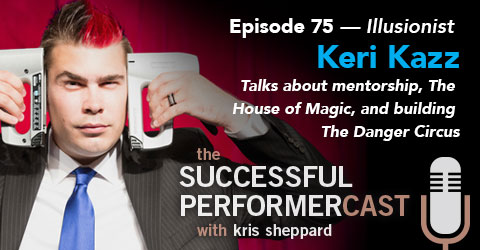 In this interview, Keri Kazz talks about being mentored by Franz Harary, The House of Magic, and then working with Thom Britton and Chuck Clark in creating The Danger Circus.
Keri Kazz is a legend of "Detroit's Motor City Magic Scene." At 23 years old, he's already accomplished more than most magicians have in their entire career. Sure he's done strolling magic in restaurants and presentations at trade shows for corporate clients, but he's also developed an illusion show that has taken him around the world playing stages in China, India, Spain, and Taiwan as part of Franz Harary's Mega Magic Touring Show.
Currently, he's gearing up to go on tour with The Danger Circus, that features fire eating, glass walking, knife juggling, dangerous escapes, and a unique blend of illusion and sketch comedy.
Kris' Recommendation of the Week —
After Things Podcast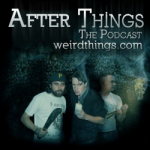 After Things Podcast: This is the official after show of Weird Things Podcast. What is it like pitching a TV show? How do you take advantage of opportunities? Join hosts Andrew Mayne, Justin Robert Young, and Brian Brushwood as they talk about their experiences navigating the creative arts and media landscape.
Interview with Keri Kazz: Success Quotes
If you really really want something, the only thing ever really standing in your way is yourself. Just do it!
Illusion Shows, Mentors, and The House of Magic
• Tells how he met and started working with Franz Harary.
• Talks about Franz's House of Magic in Macau.
• His duties there.
• Contact Bruce Gold magic@sc-macau.com, send him a demo video in order to be considered for booking.
Working with The Danger Circus
• Talks about building the show with the others.
• Talks about performing with Chuck beforehand, so they had a rapport already.
• How he came up with material that was dangerous for the show.
• Creating a brand for their show.
• Tells when they're taking it on the road again. Around Sept. 5 around the East Coast.
Failure Moment
Booking venues that were too small and selling more tickets than could attend.
Favorite Success
Performing in China.
What's worked well for growing his business?
Working with Franz.
Biggest Profesional Challenge
Overcoming the stigma of his young age and overcoming typecasting.
Other Topics Covered
• Taking chances
• How his young age affected his career early on.
• Missed opportunities and taking action.
• Promoting.
• Hiring professionals to do things like graphic design.
• Developing who he is as a performer.
Parting Advice
Go out there and do it. Only you are standing in your way and don't be afraid to ask for help.
Recommended books and resources:
Note: Many of the links in this section are affiliate links, meaning we earn a small portion of any sales. If you're enjoying our podcast and decide to purchase one of the recommended resources or books, please consider using our affiliate links to help support the work we're doing here at the Successful Performercast. Thanks!
Resources:
His friends and the magic community.
Books:
Social Media Magician by Dan Sperry (Currently Out of Print)

Where can we find Keri Kazz?