S6E7: Brian Campbell — Show Business is Really People Business!
These are show notes taken from an audio interview.
To listen to the actual interview, please use the player above.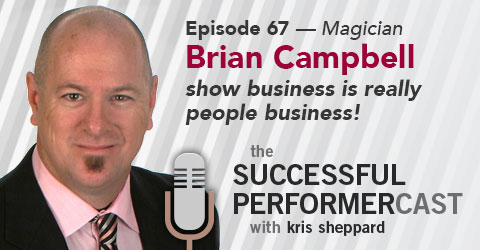 Brian Campbell shares some great practical business advice especially when it comes to navigating relationships. After all, if you're in show business, you're really in people business.
Brian is a professional magician, trade show presenter, and hypnotist and has been for over 25 years. In fact, he's performed magic for over a million people face to face.
He's worked everything from private parties, restaurants, and corporate events and for many years even managed other restaurant magicians, one of his biggest clients being Dave & Busters.
Today much of his work comes from corporate and trade show work where he and the Amazing Allison, his wife and past guest on the show consistently draw the largest crowds to clients booths. Fortune 500 clients have included Cisco, Microsoft, Johnson & Johnson, Pepsi, Frito Lay and the Anaheim Angels.
He's also put together a wonderful online resource for magicians, teaching some of the ins and outs of the business side of magic in a video series called "The Big B and the Small S."
Sponsors:
Click Convert Profit — This episode is brought to you by Josh London's Click Convert Profit and his book Flying Solo, the Smart Solopreneur's Guide to Making Money Online.
Click here to get $10 off and for my listeners only, the free ebook "4 Ways to Find Your Most Profitable Keywords."
Success Mantra
Winners never quit, quitters never win.
No education is lost.
Big B, Small S
This is the video series that Brian did with Penguin Magic where he teaches on the business side of show business. Watch and learn, it's FREE!
Show Business is Really People Business
This whole interview has a through line of show business really being about people. It's all about your personal interactions with people and your relationships that help to define your business and where it goes. Here are some of the points. 
• People are your best resources. 
• Show business is all about people.
• You're not in the business of magic, you're in the business of people.
• Talks about how he put magicians into restaurants when he was working with Dave & Busters.
• Talks about working with Penguin and his FREE video series on the business of magic called Big B, Small S.
• Magic is a 24-hour job. If you can't do something on the spot, you're not really a magician, your just someone who does tricks.
• You never know who you're going to meet. If you're not ready to do a short routine, you could miss out opportunities.
• Talks about the power of asking.
• Be an interested person instead of an interesting person. Learn about other people.
• As Zig says, you can get whatever you want in life if you help enough people get what they want.
• If you build a good rapport with people, you're more likely to do business with them.
• You can sell your magic if people like you.
• Tells how he literally knocked on the door of Microsoft and booked his biggest contract ever!
• Never say no, always say yes!
• Always look for ways in which you can help people, even if they haven't hired you yet. You want to become their "go-to person."
Failure Moment
Brian gives us a few examples of things that didn't go according to plan including how he lost a woman's very expensive ring performing Ring Flight and the time he spent looking for it again. Always be prepared for anything!
Parting Advice
Always have your business card at hand to hand out. It's no good in your own pocket.
Recommended books and resources:
Note: Many of the links in this section are affiliate links, meaning we earn a small portion of any sales. If you're enjoying our podcast and decide to purchase one of the recommended resources or books, please consider using our affiliate links to help support the work we're doing here at the Successful Performercast. Thanks!
Resources:
People. People are your best resource.
Magic Resources:
Success Resources:
Think and Grow Rich by Napoleon Hill
How to Win Friends and Influence People by Dale Carnegie
Zig Ziglar – Secrets of Closing the Sale
Verbal Judo — How to Deal with Difficult Situations

Where can we find Brian Campbell?