S8E6: Mario the Magician — Generosity and Making his Own Props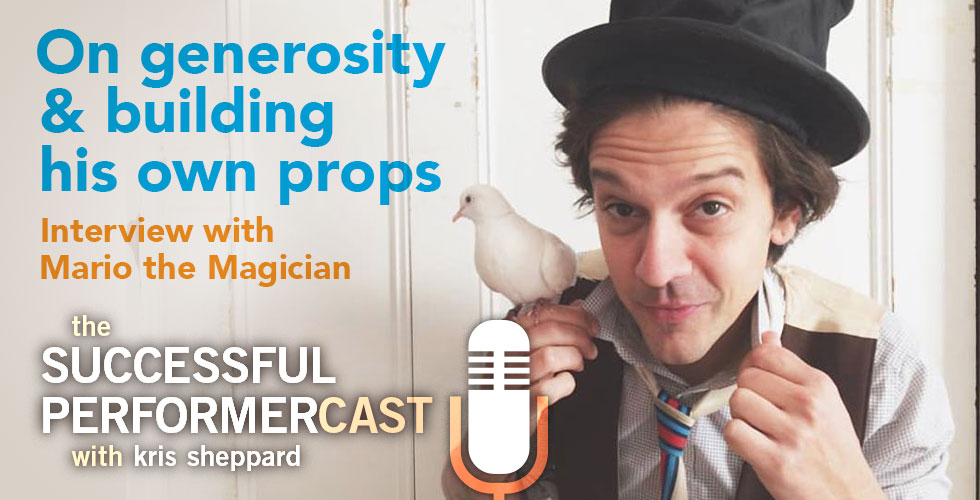 In this episode, Mario the Magician talks about how he makes all of his own props. He also talks about generosity and gratefulness and how those play a part in his business.
Mario is a magician who performs primarily on the East Coast entertaining children and their families. The thing that really makes him stand out is that he's a creator and inventor, making all of his own props for his show including fun, educational robotics.
He's an advocate for the Maker Movement, STEAM/STEM educational initiatives, and can be seen on a recent episode of Sesame Street.
He's Buster Keaton and Charlie Chaplin for the modern age.
Show Sponsors:
ManageGigs: ManageGigs helps you keep track of all of your gigs online, without having to resort to spreadsheets. Click here to check them out and sign up for your free seven day trial!
Audible: For Performercast Listeners, Audible is offering a free audiobook download and a free 30-day trial to give you the opportunity to check out their service. Click here to check it out!
Interview with Mario the Magician:
Success Mantra
Casting your bread upon the waters and not being afraid of what that bread is.
Generosity
• The reason we're here is to help someone else.
• People remember forgiveness and generosity.
• Generosity is more valuable than money.
• If you help enough other people get hat they want in life, you'll get everything you want in life. — an offshoot of Zig Ziglar's quote.
• When you give, it makes you aware of what you have.
• Keep giving back to the world.
Making His Own Props
• Everything today is built to break, where as old vintage stuff, you can open up and take apart. There is no more art in things that we buy anymore.
• 3D prints a lot of things.
• Talks about how things don't always work out with what he's working on.
• Understanding when to stop.
• Talks about programming a robotic monkey to do things at different points in his show.
Other Topics Covered
• Being aware of what the world is telling you.
• Talks about his journey to where he is now.
• The stigma of kids performers.
• How he works together with his wife in business.
• Being grateful.
• Life in Nyack
• Being a good example for his kids.
• Finding a balance between working on his projects and family time.
• Understanding who your shows are really for.
• Bring fully present in your performances.
• Adults are really just four and five year olds and love going back in time.
• Playing for the adults as well as the kids. Like a Disney or Pixar movie.
• Talks about his experience on Sesame Street.
• Talks about how his wife believes in him and fully supports what he's doing.
Parting Advice
Be generous. Help others and make a difference in people's lives.
Find your art.
Videos Mentioned
Building Magic Website | Kickstarter Campaign | Facebook
Exclusive Content for Patreon Supporters

This weeks episode is the full interview, but often times I go longer than an hour and therefore have to cut the interviews down to be an hour or less. Patron supporters get access to the full uncut versions of these interviews and often times, a few days before the official episode is released. If this interests you, please consider supporting me on Patreon. 
Recommended books and resources:
Note: Many of the links in this section are affiliate links, meaning we earn a small portion of any sales. If you're enjoying our podcast and decide to purchase one of the recommended resources or books, please consider using our affiliate links to help support the work we're doing here at the Successful Performercast. Thanks!
Resources:
People. Get around the right people.
Books:

Where can we find Mario the Magician?
Facebook | Twitter @mariomagician | Instagram | Youtube