S4E2: Brian Brushwood — Magician & Internet Celebrity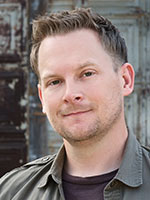 These are show notes taken from an audio interview.
To listen to the actual interview, please use the player above.
In this episode I talk to Brian Brushwood!!! We cover a lot of great topics like how he got on the Tonight Show as a guest, passive income, and what really happens when you botch a prediction on live radio!
Brian Brushwood is a magician, TV host, Podcaster, author, and internet celebrity.
Magic-wise, he's performed his bizarre magic show around the country at colleges and universities. He's the host of Discovery's Scam School where he teaches all sorts of magic tricks and bar bets that you can use to score free drinks from your friends at the bar. He's also authored six books on the subject of magic.
Internet-wise, he's been featured on a number of shows and podcasts like the NSFW show, Weird Things, Too long Didn't Listen, Cord Killers, Night Attack, and he's been a frequent guest on Leo Laporte's show This Week in Tech. I guess you can say he's sort of a big deal on the internet.
As if that isn't enough, he can most recently be seen on TV hosing Nat Geo's Hacking the System.
Success Mantra:
Fail faster. If you want to double your success rate, double your failure rate.
Failure Moment:
Speaking of failure, Brian tells about a time where his show failed to register and connect with his audience. They really didn't get it or like it and someone even threw fruit at him after his show.
He later in the show talks about a prediction failure that happened to him while being interviewed live on the radio.
Favorite Success:
Being a guest on the Tonight Show. Brian talks about what went into getting there. Spoiler alert: persistence!
What's Worked Best for Brian's Business?
Not sitting around waiting for things to happen for him.
Biggest Professional Challenge:
Questioning whether or not he's doing the right thing.
Other Topics Covered:
• Working harder than everyone else.
• How a raise helped him realize what he really wanted to do.
• How he prepared himself for jumping ship still work.
• Persistence.
• We become what we think about most of the time. Earle Nightingale in the strangest secret.
• How he gained a large audience online.
• Being real online.
• Failure is an unpleasant side effect of trying and caring.
• Impostor Syndrome.
• Balancing travel and touring with family.
• His approach to Passive Income.
• Trading time for money vs. creating something and getting paid over and over for it.
• His correspondences with Teller.
• His experience on AGT
Parting Advice:
Try. Don't be the bitter guy knocking everyone else's acts.
In life, we exist as trends not individual actions. Trend in the right direction.
Videos Mentioned in the Show:
Brian's demo reel which features his Tonight Show Footage:

Brian's viral smash & stab fail video

Recommended books and resources:
Note: Many of the links in this section are affiliate links, meaning we earn a small portion of any sales. If you're enjoying our podcast and decide to purchase one of the recommended resources or books, please consider using our affiliate links to help support the work we're doing here at the Successful Performercast. Thanks!
Resources
Audible.com – Audiobooks
Books
Make Art Make Money: Lessons from Jim Henson on Fueling Your Creative Career
Born Standing Up – Steve Martin

Where can we find Brian Brushwood?
Scam School – Web Show
Night Attack – Podcast
Cord Killers – Podcast
Twitter @shwood