S1E10: Scott Marshall—Rude Boy Magician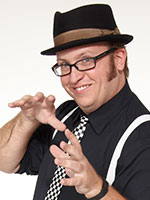 These are show notes taken from an audio interview. To listen to the actual interview, please use the player above.
Scott is a magician from Los Angeles who's done everything from street performing to corporate engagements and is ultimately out there making a living doing what he loves!   
Favorite quote:
Get out the door! —Unknown
Failure moment:
Scott brings us into a time where he was rejected by another magician who was looking for a restaurant worker. Rejection hurts! Listen to hear the story and how Scott responded to it.
Biggest success:
2013 was Scott's best year as a professional performer. It was the year he was able to fully stand on his own as a full time performer.
What would he have done differently?
He would have really liked to be a Castle Junior, though his life didn't line up with that happening.
Unique selling point:
The way Scott feels he separates himself from others is by the way he interacts with his audiences. He has a fun, off the cuff personality and will often just play off the audience building personal interactions creating something ultra personal for the audience. Oh, and hecklers? Bring 'em on!
What's working for him business-wise?
Persistance has been what's worked best for Scott's business. Never giving up!
Interesting story from the road:
Listen in to hear about when Scott was street performing and a neighboring dance troupe was using the front of his performance area as a runway for their show. Very interesting…
Other topics touched upon:
• Tells about why he quit magic for about ten years. • Talks about his approach to goal setting and attainment. • Describes what it was like getting his first standing ovation. He thought his audience was about to rush the stage! • How he handles hecklers.
Parting advice:
Get. Out. The. Door!
Recommended books and resources:
Note: Many of the links in this section are affiliate links, meaning we earn a small portion of any sales. If you're enjoying our podcast and decide to purchase one of the recommended resources or books, please consider using our affiliate links to help support the work we're doing here at the Successful Performercast. Thanks!
Performance Specific Book
Mark Wilson's Complete Course in Magic by Mark Wilson
Non-Performance Specific Book
Writing Love: Screenwriting Tricks for Authors II  by Alexandra Sokoloff

Resources:
Daily Success List for Android and a show journal.
Where can we find Scott?
Twitter @MagicSMarshall | Facebook