S8E3: Nick Paul — Lessons Working with Disney
These are show notes taken from an audio interview.
To listen to the actual interview, please use the player above.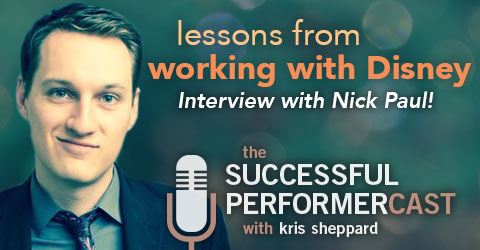 In this interview,magician Nick Paul talks about his time performing with Disney, performing silently, and his sketch comedy influence!
Nick is a magician who for 14 years has performed full-time touring the United States at corporate events, collages, and theaters. He's also had opportunities to perform at Walt Disney World, on cruises, and in multiple countries. He was voted "Critic's Choice" for Best Variety Performance at the Orlando Fringe Festival, and was personally invited to audition for America's Got Talent.
In addition to this, he also has a podcast geared toward magicians called "Two Magicians, One Mic."
Walt Disney World says, "He's an entertainment tour de force."
Top of the Show News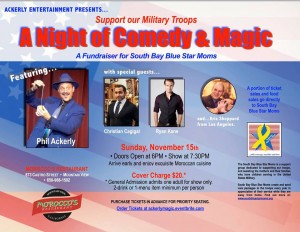 This week, I'm going to be traveling up north to visit some friends and take part in Phil Ackerly's Night of Comedy and Magic to support our troops. I'll be performing strolling magic before the stage show (That features Phil Ackerly, Christian Cagigal, and Ryan Kane). Come out to support our troops and to say hi! I'd love to meet you if you're up in that area! Click on the flyer to the right for more info.
Interview with Nick Paul:
Success Mantras
You're only as good as your next show.
"Yes, and…"
Working with Disney
• Tells how he got in with Disney, auditioning, and a "lucky break."
• Tells how he created a specific show, a silent act, for his Disney audition.
• How he doesn't like auditions and about his inside perspective into them.
• Performed at The Boardwalk at Walt Disney World in a sort of busking atmosphere (without passing the hat).
• Learning from other performers and from the different kinds of audiences.
• Gearing up to work on Disney Cruise Lines.
• Changes he's making as he's getting ready to get into a completely different venue.
Working Silent & Sketch Comedy
• Being aware of your posture and every movement and facial expressions.
• Your actions need to be genuine.
• How to view your helpers up on stage.
• Playing off of your partners on stage.
• Playing bigger and smaller.
• Listening to your audience.
• At the end of a sketch, the character is forever changed.
• How does this sketch change me and the audience?
• The audience is your partner.
• When and how you can tactfully "razz" or "jab at" your helper.
Other Topics Covered
• Impostor Syndrome
• Networking with people and being kind.
• Cutting your teeth in restaurants.
Failure Moment
How Nick tried to get into the Blue Man Group and then ultimately realized it wasn't for him. Even after two of his friends landed gigs with them.
Favorite Success
Landing a contract with Disney.
Biggest Pro Challenge
Differentiating himself from other magicians.
Parting Advice
Be kind and try to be unique with your act.
Recommended books and resources:
Note: Many of the links in this section are affiliate links, meaning we earn a small portion of any sales. If you're enjoying our podcast and decide to purchase one of the recommended resources or books, please consider using our affiliate links to help support the work we're doing here at the Successful Performercast. Thanks!
Resources:
Books:
Born Standing Up by Steve Martin
Malcolm Gladwell Books – Outliers, Blink, The Tipping Point, David & Goliath
Seducing Strangers by Josh Weltman

Where can we find Nick Paul?
Impossible Feats of Fake Magic (Full Show) from Nick Paul | Comedian & Magician on Vimeo.