S3E8: Nick Lewin — Talks Corporate Magic!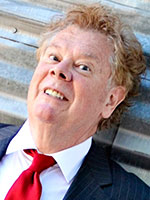 These are show notes taken from an audio interview.
To listen to the actual interview, please use the player above.
In this episode, Nick Lewin and I talk about corporate magic, customizing your show for your client, and pitching your ideas to them. We also talke about putting a twist on magic classics and there's even a little performance advice taken from Billy McComb!
Nick Lewin is a magician, comedian, actor, host, and keynote speaker from Austin Texas, originally from London.
He's certainly run the gamut, being featured on countless TV shows as both a magician and actor, he's performed for English royalty, presidents, hollywood celebrities, and fortune 500 companies. Companies like Apple, AMD, AT&T, Bank of America, Coca Cola, General Electric, and Nutrasweet. He's also been featured in top showrooms around the country including Vegas with his One Man Show and has also performed on every premium cruise line.
In addition to this, he also finds time to create products for and teach the magic industry, contributing his thoughts to multiple outlets, on the industry, performance, and business.
Entertainment Today says "Lewin blends impeccable sleight of hand with a razor sharp British wit."
Success Mantra:
Work a lot! To be a successful performer, you need to perform.
Failure Story:
During a show, one of his props got moved and as a result, he wash't able to perform that routine. He learned to always have a backup ready for anything.
Favorite Success:
Meeting and performing for the man who invented the MP4 codec.
Corporate Magic!
• Customizing or personalizing your show for your client.
• Making the company president look good.
• It's possible to expand things and make the show bigger, e.g.. Hire other acts or close-up workers.
• Producing larger shows.
• How to pitch the client.
• How Nick uses a card trick to instantly change the atmosphere of a client meeting and tip things in his favor.
• Going down into the crowd after performing an after dinner show to do close-up magic and mingle with the audience. Just like Jay Alexander talked about!
• Getting repeat bookings.
• Be a "mentalist" at client meetings. (This advice and a little more corporate advice shows up at the end of the show.)
Biggest Professional Challenge
Keeping his act fresh. He talks about what Bob Dylan does to make each show different.
Parting Advice
Know what you do, know what your client wants, and be there to fill their need.
Other Topics Covered
• Talks about how he created the concept for an afternoon family magic show in Vegas.
• Putting a twist on classics of magic and gves an example how how he uses a different approach to the Newspaper Tear (a variation on Elmsley's version).
• Connecting with the audience.
• Some advice he received from Billy McComb: Don't waste anything up front. Do enough to get your audience's attention, then wow them with the good stuff!
• Don't finish your show with anyone up on stage with you.
Recommended books and resources:
Note: Many of the links in this section are affiliate links, meaning we earn a small portion of any sales. If you're enjoying our podcast and decide to purchase one of the recommended resources or books, please consider using our affiliate links to help support the work we're doing here at the Successful Performercast. Thanks!
Resources
Pinboard iOS App – a digital cork board that helps you organize your thoughts.
Magic Books
Tales from the Uncanny Scot by Ron Wilson
McComb's Magic: 25 Years Wiser by Billy McComb
Vanish Magazine: A free magic magazine put out by Paul Romhany

Where can we find Nick Lewin?
Remarkable Magic – Nick's Writings on magic, performance, and business