S4E6: Doug Scheer — Themed Magic Shows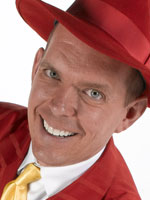 These are show notes taken from an audio interview.
To listen to the actual interview, please use the player above.
In this interview, Doug Scheer tells us all about creating themed educational magic shows!
Doug Scheer is a magician and an expert at creating customized educational shows.
He'd originally worked in the auto industry for two decades creating custom magical presentations for General Motors.
And now he's found success in offering 13 different shows to the educational school show market creating and performing shows that teach lessons as well as amaze!
Success Quote:
I don't know the key to success, but the key to failure is trying to please everybody. — Bill Cosby
Theme Shows:
• Brainstorming ideas for themes.
• How to match tricks with topics.
• How to choose a topic to teach on.
• How bolding a theme show is like building a house.
Doug's Book and a Contest!
Entertaining Education: A Comprehensive Guide to Creating & Performing Educational Magic
Domestic Shipping | International Shipping
This book teaches us Doug's method of creating educational magic shows and includes 18 scripts to different tricks, a DVD of one of his theme shows, a graphic novel-styled-book to go with the DVD, and a bunch of his promotional materials he uses to promote that show.
Contest: I have one copy of Doug's book to give away which includes all of the items mentioned above.
Enter to win by leaving a comment below telling us who your favorite interview has been and one thing you've learned and implemented in your business.
I'll randomly pick a winner from the comments and announce it on my next episode!
Other Topics Covered:
• What it's like working with your spouse.
• A really cool story about how his show helped a single mother and child.
• Increase your credibility by writing a book.
• Connecting and working with special needs children on stage.
Recommended books and resources:
Note: Many of the links in this section are affiliate links, meaning we earn a small portion of any sales. If you're enjoying our podcast and decide to purchase one of the recommended resources or books, please consider using our affiliate links to help support the work we're doing here at the Successful Performercast. Thanks!
Resource:
Books:
Ultimate School Show Secrets by Joe Romano
When I Stop Talking, You'll Know I'm Dead: Useful Stories from a Persuasive Man by Jerry Weintraub

Where can we find Doug Scheer?