S8E9: Fantastick Patrick — Juggling, TV, & Generosity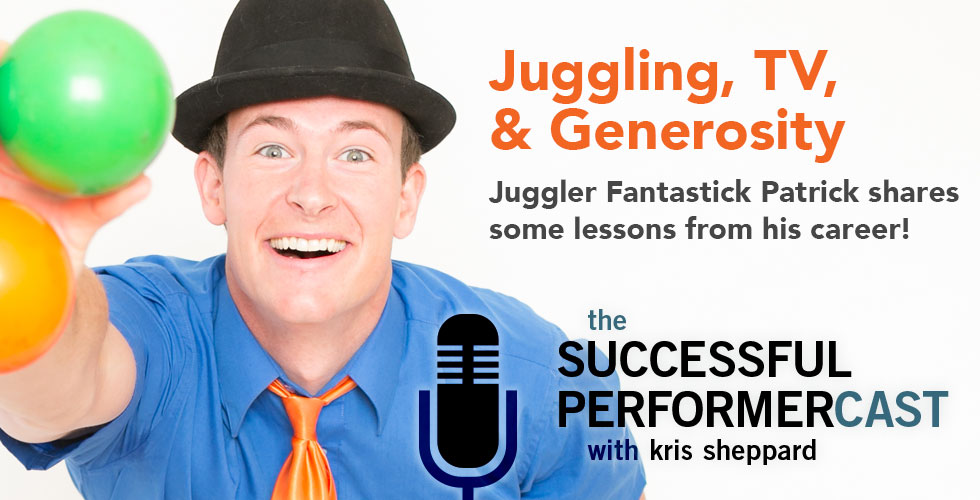 In this episode, Fantastick Patrick talks about his juggling career which includes performing on TV, dealing with fear & failure, and having a mindset of giving.
Fantastick Patrick is a juggler/comedian/unicycle wrangler/musician/curator of all things fun & awesome! He comes to us from Los Angeles yet travels around the country performing at fairs, festivals, and corporate shindigs. He's also had multiple TV appearances on shows like The Tonight Show with Conan O'Brien, Hell's Kitchen, and the MTV Movie Awards.
Success Mantra
He who tries to shine dims his own light.
Performing on TV
• Talks about what he did to get on TV to perform.
• Tells the story on how he got on the Tonight Show.
• How unpredictable things can be on set.
• How different it is performing on TV rather than performing in a live show.
• There's multiple takes, so if you mess up, you can do it again.
• There are decades where nothing happens and then there are weeks where decades happen.
• How he uses his TV appearances to benefit his performance career.
Other Topics Covered
• Just letting things flow. Don't try too hard or you'll overthink it.
• Dealing with nerves before performing.
• Talks about some of his earlier juggling ventures.
• Moving to Los Angeles.
• Talks about how he markets himself.
• Talks about social media.
• People want to hire their friends.
• Focusing on strengths.
• Personal Facebook Pages vs Fan Pages.
• His view on failure.
• Dealing with fear.
• The danger of comparing yourself with others.
• Don't be afraid to fail.
• Outsourcing aspects of your business.
• Top of mind awareness.
• Wanting what you have.
• Using your gift to inspire and bless other people.
• Decide that you're going to serve and to give. "The Gift Shift."
Failure Moment
Tells how he let someone else run his career and put them in the driver seat.
Favorite Success
Finding success in his chosen market.
Biggest Professional Challenge
Sticking with it through the tough times.
Anything Done Differently?
Moved out to LA sooner and focused more on business.
Parting Advice
Love what you do, the money will follow.
Recommended books and resources:
Note: Many of the links in this section are affiliate links, meaning we earn a small portion of any sales. If you're enjoying our podcast and decide to purchase one of the recommended resources or books, please consider using our affiliate links to help support the work we're doing here at the Successful Performercast. Thanks!
Resources:
Get the best sound equipment that you can. Make sure everything is battery powered, you don't want to have to rely on an outlet.
Sennheiser body packs and make sure you get one of the "legal" ones.
Books:
The War of Art by Steven Pressfield
The Untethered Soul by Michael Singer
The Power of Now by Eckhart Tolle

Where can we find Fantastick Patrick?