S5E4: David Aiken — the Checkerboard Guy
These are show notes taken from an audio interview.
To listen to the actual interview, please use the player above.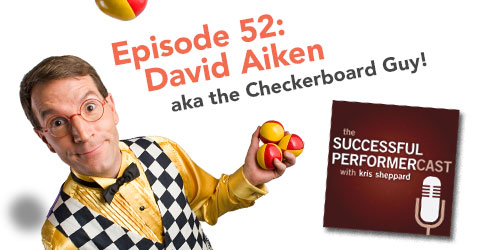 In this interview, David Aiken talks about his juggling career, branding, interjecting comedy into real life, and a great story that involves him on the Barenaked Ladies Ships & Dip Cruise!
David Aiken, AKA the Checkerboard Guy is an award-winning interactive comedy juggler from the Great White North!
Performing for corporate events, cruise lines, and at other various venues, David has traveled the world with his act including North America, Austrailia, Europe, and Asia, and even learned to perform his act in Japanese since he was invited back there so often. He's performed for clients such as Air Canada, Honda, the Canadian Football League, The National Hockey League, and even had the opportunity to perform for Canada's Prime Minister.
Royal Caribbean International says that David is "A wacky crazy man that will keep you laughing! and a delight to work with!"
Success Quote:
Once you can laugh at your own weaknesses, you can move forward. Comedy breaks down walls. It opens up people. If you're good, you can fill up those openings with something positive. Maybe you can combat some of the ugliness in the world. — Goldie Hawn
Failure Moment
Missing a flight to India because he didn't look at the time correctly. He showed up at 2:00 PM instead of 2:00 AM.
Branding and His Checkerboard Guy Persona
• How he evolved into his persona.
• How he uses "trading cards" in his marketing efforts.
• Living his persona on stage and off stage.
• How his branding helps him generate "celebrity."
• When people want you specifically, that's the beginning of celebrity.
Biggest Professional Challenge
Slowing down and not yelling during his show.
Worked Best for His Business
Going out and being awesome, doing good shows, and exceeding expectations.
Fun Story from the Road
Hear about how he met and befriended the Barenaked Ladies, got to perform on some of their Ships & Dip Cruises, and took a huge group Barenaked photo with the Barenaked Ladies. Want proof?
Other Topics Covered
• Impostor syndrome.
• Using comedy in life to break down barriers.
• Talks about the support he had from his mother who put him on a bus at 14 years old to go to a juggling convention for a few days. It was a different world.
• Being a juggler/jester in the Society for Creative Anachronism.
• You become the average of the five people you spend the most time around.
• Working as the usher at his own shows helps him to interact and get to know his audience from the get go.
• Working in Japan and learning Japanese so he could perform his show in their language…and ask for his now wife's hand in marriage.
• Always trying to interject humor and find "places to play."
• Making mistakes and learning from them.
• Growing as a creative person.
• GGoL: Generous Gifts of Love
• Strategic thanking and marketing.
Parting Advice
Have fun! If you're not having fun, you're doing the wrong thing!
Recommended books and resources:
Note: Many of the links in this section are affiliate links, meaning we earn a small portion of any sales. If you're enjoying our podcast and decide to purchase one of the recommended resources or books, please consider using our affiliate links to help support the work we're doing here at the Successful Performercast. Thanks!
Resource:
Scrivener — a powerful content-generation tool for writers.
Books:
Negotiating Higher Performance Fees by Michael Ammar
The Comic Toolbox by John Vorhaus
Start with Why by Simon Sinek

Where can we find David Aiken?
Stories from the Pitch Podcast
Another side of Lindsay Benner's Story about Shitman, as told by Pete Sweet.