S3E3: Christian Cagigal — Bizarre Magical Theatre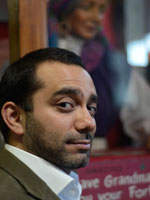 These are show notes taken from an audio interview.
To listen to the actual interview, please use the player above.
In this episode, I talk to bizarre magician Christian Cagigal. We talk about his career and numerous topics including leaving a long-lasting impression on his audiences and how he gets people through the door of his shows.
Christian Cagigal is an actor, writer, and magician out of and around the San Francisco Bay Area. He's one of "Ten Bay Area artists on their way to becoming icons" as dictated by the San Francisco Weekly and was voted Best of the Bay, for the second time, by the San Francisco Bay Guardian.
Has performed his unique brand of "slightly creepy," and I'd add "mildly disturbing" magic as an artist in residence at two theaters: San Francisco's EXIT Theatre, and Quebec's "Beyond the Mountain."
He's Produced a number of his own shows:
The 13 Steps, The Pandora Experiment, the long running OBSCURA, The Collection, and the show Now and at the Hour which he's currently working on a performance film of and that is being directed by internationally recognized San Francisco filmmaker H.P. Mendoza.
Finally, he's also consulted for a number of theater companies such as A.C.T.'s MFA program, Crowded Fire Theatre Company, The Traveling Jewish Theater Company, Marin Shakespeare Company, EXIT Theatre DIVAfest and The San Francisco Ghost Hunt Walking Tour.
Success Quote:
Take what you've got and fly with it! – Jim Henson
A Moment of Failure:
Tells how he felt like he wasn't able to gain traction early in his career.
Favorite Successes
Having a complete stranger recognize him while he was shooting footage on the street, based only on what her friend told her about Christian and his magic.
What's been Christian's biggest challenge so far?
Getting in his own way.
What would Christian have done differently?
He would have learned more about business and marketing earlier in life.
Other Topics Covered
• Creativity and limitations.
• Interning under magician Jay Alexander and a few things he learned.
• His experience working with the San Francisco Mime Troupe.
• Forming and growing relationships with your audience.
• Talks about his first time producing his own show and gives us a few things he does to get people through the doors.
• Talks about his email list and how he interacts with it.
• Dive in and figure it out!
Parting advice:
When making a cup of Earl Grey tea, don't dunk the bag, let it steep.
This can be seen as a metaphor for life. Don't jump in and out of things, fully immerse yourself in what you're doing. Then add cream and sugar to make things interesting!
Recommended books and resources:
Note: Many of the links in this section are affiliate links, meaning we earn a small portion of any sales. If you're enjoying our podcast and decide to purchase one of the recommended resources or books, please consider using our affiliate links to help support the work we're doing here at the Successful Performercast. Thanks!
Resources
Journals to write in and friends
Performance Specific Book
Corinda's 13 Steps to Mentalism
Tarbell's Course in Magic
Hauntiques & Capricornian Tales by Christian Chelman
Business Specific
Business Plans for Dummies

Where can we find Christian Cagigal?
Christian's Website
Christian's Corporate Website