S3E11: John Crist — Comedian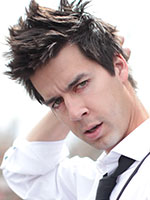 These are show notes taken from an audio interview.
To listen to the actual interview, please use the player above.
In this episode, I talk to comedian John Crist about his business and career in comedy. We touch on such topics as setting goals, taking risks, and failure. Enjoy!
John Crist is an award-winning comedian from Denver, CO who's edgy, yet clean comedy has taken him around the country and made him popular with people of all ages.
He was a finalist in Comedy Central's 2013 Up Next Comedy Competition, winner of the 2012 Denver Improv's Got Laughs Competition, as well as the 2012 Loonees Comedy Competition.
He's opened for Seth Meyers and In 2013, he performed 275 shows at top comedy clubs like The Hollywood Improv, the Comedy Magic Club in Los Angeles, the Las Vegas Laugh Factory, The Punchline in Atlanta, and his home club, The Comedy Works in Denver. Add to this performing for Fortune 500 companies like Microsoft, GE, Lexus, and HP.
Oh yeah, he was also Hand-selected by Adam Carolla to share the screen with him in an upcoming 2015 film called Road Hard
Louie Anderson says "It's only a matter of time until John Crist is a household name. He is so likable, and his stand up is top notch."
Success Quote:
If you want something, go get it. Period. — Will Smith in the Movie: Pursuit of Happyness
Two Failure Stories:
The first scenario he talked about was a chance that he didn't take and now regrets.
The second scenario was about a time he unintentionally called out an audience member's handicap.
Favorite Success:
Being able to work with Adam Carolla in an upcoming movie (coming out next Spring).
What's Worked Best in Growing His Business
Setting goals and approaching things with a purpose.
Biggest Professional Challenge
Letting things go. Delegating tasks like design, accounting, etc., so that you're free to do what you're good at.
Parting Advice
Do things that are great and share it with people.
Other Topics Covered
• Fear and working hard despite that fear.
• The importance on trying out new material on real people.
• Talks about where he finds inspiration for material.
• How sometimes you can put yourself too much into your passion.
• Standup comedy is often built on failure.
• Taking risks.
• The benefits of being a clean act.
• The importance of persistence.
• Knowing your audience and adjusting your act accordingly.
Recommended books and resources:
Note: Many of the links in this section are affiliate links, meaning we earn a small portion of any sales. If you're enjoying our podcast and decide to purchase one of the recommended resources or books, please consider using our affiliate links to help support the work we're doing here at the Successful Performercast. Thanks!
Resources
A tripod. To assist in selfies. 🙂
Books
Failing Forward by John Maxwell
Huck Finn by Mark Twain

Where can we find John Crist?
Facebook | Twitter @johnbcrist | YouTube | Instagram <—– John's Instagram feed is hilarious!!!