S4E10: Brian Glow — Corporate Magic Rock Star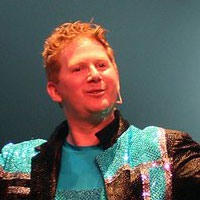 These are show notes taken from an audio interview.
To listen to the actual interview, please use the player above.
In this interview, Brian Glow and I talk all about corporate entertaining. We discuss everything from customizing your shows, targeting your marketing, and communicating with your prospects!
Brian Glow is a corporate magician based out of Winnepeg, Manitoba, Canada.
Brian specializes in corporate magic shows melding the companies message, theme, logos, products, and services into his magical performances wowing and educating all that witness his presentations. He's performed over 7,000 corporate shows in over 40 countries for Fortune 500 and local businesses alike, including, but certainly not limited to Ford, Canon, Apple, Air Canada, and Hewlet Packard.
The Chicago Tribune says, "Joy and cleverness seem to pervade his work."
Success Quote:
To be good is not enough when you dream of being great! — Anonymous
Corporate Magic
• Creating and customizing material that fits with your clients.
• Gives specific example of creating material with a custom presentation.
• The magic is secondary to selling product or the corporate message.
• Tells how he broke into the corporate market.
• Having loyalty with your clients and not jumping ship to go with their competition.
• How he markets himself.
• Finding trade show directories.
• What makes you different from everyone else?
• Keeping in touch with contacts to keep Top of Mind Awareness.
What's worked best for growing his business?
Cold calling!
Biggest Professional Challenge:
World touring and all that goes with it.
Failure Moment:
A one year contract was negotiated with a company in China, and the deal was killed because of the SARS outbreak. It left him with a huge hole in his calendar that he had to fill again.
Favorite Success:
His children.
Other Topics Covered:
• Having a good website.
• Social proof: video testimonials, etc.
• Having your marketing materials targeted to who you're going after.
• Responding quickly to inquiries.
• Losing luggage and being prepared for everything.
Parting Advice
Be prepared.
Recommended books and resources:
Note: Many of the links in this section are affiliate links, meaning we earn a small portion of any sales. If you're enjoying our podcast and decide to purchase one of the recommended resources or books, please consider using our affiliate links to help support the work we're doing here at the Successful Performercast. Thanks!
Resource:
Lists! For packing, traveling, prop lists, pre packed shows, etc.
Show Cues – iOS App
Books:
Life is a Contact Sport by Ken Kragen
It Takes Guts, Dammit by Paul Diamond
Tarbell's Course in Magic | Ebook Version

Where can we find Brian Glow?