S3E2: Micah Cover — Magician Makes His Audience the Star!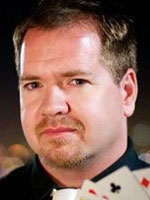 These are show notes taken from an audio interview.
To listen to the actual interview, please use the player above.
In this episode, I talk to Los Angeles magician Micah Cover. We talk about his career in magic and how a little bit of humanity can go a long way.
Micah has also agreed to give a free copy of his 73-page lecture notes, From the Trenches: The Pros & Cons of Being a Family Magic Entertainer, to all of our listeners. Listen at the end of the episode to find out how to get yours!
Micah Cover is a magician that spends his time performing all around Los Angels and has been a professional magician since 1995!
With a background in theater, improv and street magic, he brings his highly interactive magic shows everywhere from birthday parties, restaurants, large and small events, and a variety of different venues including the world famous Hollywood Magic Castle. It's there where he produces the annual Night of the Raven, a yearly charity event for the Academy of Magical Arts.
In addition to performing magic, he also writes, lectures, and consults on the art of magic. You may have seen his work on TV on CNN and on the show 1,000 Ways to Die. Finally, he's also an actor who's appeared on Days of Our Lives and in a recurring roll on Dawson's Creek.
As stated by the Magic Castle, Micah is an innovative performer with mind-boggling talent. His extraordinary effects will rock the room!
Success Quote:
Success is not the key to happiness. Happiness is the key to success. If you love what you are doing, you will be successful. – Albert Schweitzer
A Moment of Failure:
Told an audience member to get off the phone only to find out he's a psychiatrist and had just gotten a call from a suicidal client.
Favorite Successes
There were two of them: Performing for Jeff McBride, and then an unusual gig for Cisco Systems where he performed on demand for random people over the internet via kiosks set up around the country.
Jeff McBride's interview on the Magician Business Podcast was also mentioned.
How Micah Differentiates Himself:
Makes his audience the star of his shows.
What's worked well for his business?
Talk less and listen more. This helps in life as well as in business.
Interesting Story:
Tells how he auditioned in front of his childhood hero, Ice McDonald, for Magic Castle membership, almost didn't get in, and then how things came full circle years later.
What's been Micah's biggest challenge so far?
Making a consistent living and being a better at business.
What would Micah have done differently?
He would have studied marketing earlier in his career.
Other Topics Covered
• How we might not enjoy what we're doing at the moment, even though we are doing what we love.
• There's no perfect moment. Go take action!
• The importance of "being human" and realizing that others are human as well. Everyone is fighting something.
Parting advice:
Never give up!
Get Micah's lecture notes for free!
Micah has agreed to give a free copy of his 73-page lecture notes, From the Trenches: The Pros & Cons of Being a Family Magic Entertainer, to all of our listeners.
Email Micah Cover at [hide_email micahthemagician@yahoo.com] and mention the Successful Performercast in your email, and he'll send them to you for free!
Recommended books and resources:
Note: Many of the links in this section are affiliate links, meaning we earn a small portion of any sales. If you're enjoying our podcast and decide to purchase one of the recommended resources or books, please consider using our affiliate links to help support the work we're doing here at the Successful Performercast. Thanks!
Resources
Audiobooks

Performance Specific Book
The Art of Restaurant Gigs by Benji Bruce
Sleights of Mind: What the Neuroscience of Magic Reveals About Our Everyday Deceptions by Stephen L. Macknik
Other Resources Mentioned
Jeff McBride's interview on the Magician Business Podcast
Where can we find Micah Cover?