S6E4: Jeff Civillico — Juggling & Career Design
These are show notes taken from an audio interview.
To listen to the actual interview, please use the player above.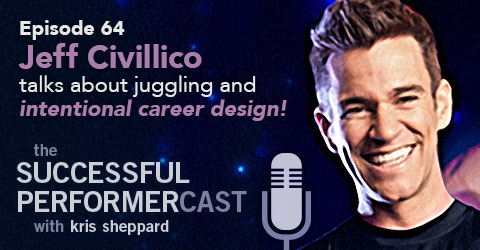 Jeff Civillico brings us into his career in juggling and gives us some practical advice when it comes to intentionally designing your own life and career.
Jeff is a high-energy Vegas headliner who takes juggling, audience interaction, and lots of comedy to compose his show, "Comedy in Action," which can be seen at the LINQ Hotel & Casino on the Las Vegas Strip.
His passion has taken him around the world garnering him once-in-a-lifetime opportunities like sailing the Queen Mary II, sky diving in Australia, and getting to perform at The White House.
He's a favorite onboard the Disney Cruise Line and has performed many venues on Vegas Strip including, V: The Ultimate Variety Show, Nathan Burton, and The Improv at Harrah's.
He's the founder and president of Win-Win Entertainment, which is a non-profit that pairs performers willing to donate their time and talent with charities in need of entertainment.
He also speaks on "Branding your Passion," which helps people design the career and lifestyle of their dreams. Not bad for someone that juggles plungers for a living.
Sponsors:
Click Convert Profit — This episode is brought to you by Josh London's Click Convert Profit and his book Flying Solo, the Smart Solopreneur's Guide to Making Money Online.
Click here to get $10 off and for my listeners only, the free ebook "4 Ways to Find Your Most Profitable Keywords".
Success Quote
You're fast becoming the person you're going to be. — Jeff's Dad, Mr. Civillico
Stay young, stay foolish. — Steve Jobs
Work harder on yourself than you do on your job. — Jim Rohn
Designing your Life & Career
• Finding your passion VS. being a passionate person. 
• Branding yourself. 
• Passionate people find ways to channel their energy and drive. 
• Passionate people find ways to build things that are bigger than themselves.
• Personal philosophy and values.
• Taking initiative and being proactive.
• Leveraging what you have for more and taking action.
• Being able to pivot.
• Engaging with the community.
• Talks about how he got his show in Vegas with certain leverages and out-hustling his competition.
• Bartering. Everyone has something that someone else needs and can be bartered.
Failure Moment
Talks very candidly about a soured business relationship with another entertainer and what he learned.
Favorite Success
Sticking it out after above "falling out."
Biggest Professional Challenge
Making his Vegas show profitable.
Interesting Story From the Road
Tells how he really made a difference in one woman's life with his act.
Other Topics Covered
• Congruency between who you are both on and off stage.
• Staying connected with his family.
• Talks about how he moved out to Vegas.
• Win Win Entertainment: matching charities with performers.
• Abundance Mentality VS. Scarcity Mentality
Parting Advice
Take action and leverage what you have for more.
If something doesn't work out, pivot.
Recommended books and resources:
Note: Many of the links in this section are affiliate links, meaning we earn a small portion of any sales. If you're enjoying our podcast and decide to purchase one of the recommended resources or books, please consider using our affiliate links to help support the work we're doing here at the Successful Performercast. Thanks!
Resources:
Books:
Born Standing Up by Steve Martin and other biographies
Success Principles by Jack Canfield
How to Win Friends and Influence People

Where can we find Jeff Civillico?