S8E1: Annie Banannie — Balloon Storytelling
These are show notes taken from an audio interview.
To listen to the actual interview, please use the player above.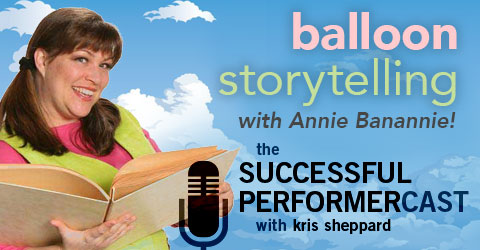 In this interview, Annie Banannie takes us into her career as a balloon storyteller. She talks about working with children, satisfying clients, and ultimately making a difference in the kids lives.
Annie is a children's book author who doesn't just write and sell her books, but also creates "balloon theater" where she uses balloons to tell stories. Her shows are tailored for elementary schools, public libraries, preschools, and family events, and her mission is to help children realize that they have amazing creative ability hidden within themselves.
With her, every balloon has a story.
Kris' Recommendation of the Week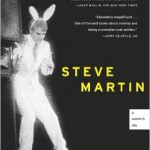 I just finished listening to the audio version of Steve Martin's book Born Standing Up and I get something new out of it every time! If you haven't read it, you should definitely check it out.

Interview with Annie Banannie:
Success Mantra
Ship! — Seth Godin
If you wait until everything is perfect, you'll never do it.
Balloon Theater and Working with Children
• What is balloon theater?
• With kids, laughs per minute isn't as important as interaction with the humor.
• Never be afraid of straying from your plan.
• Making you volunteer have more fun on stage than anyone else in the audience.
• Working with special needs kids on stage.
• Making a difference on kids lives.
• Having a special needs kid up on stage being successful isn't only for that kid, but all the other kids in the audience as well, breaking down the barrier between the common kids and the special needs kids.
• Working with the client (teacher, parent, principal, etc.) to achieve their goals.
• Working within the school's schedule.
• Being reliable.
• Librarians talk about who they hire for entertainment and are brutally honest on how they liked or didn't like them.
• Pitching your show and educating your prospects
Other Topics Covered
• Not waiting until things are perfect.
• Selling your product before you make it.
• The importance having a coach and always learning.
Failure Moment
Tells how she botched a silent act in Japan where she wasn't prepared enough in front of 2,000 people.
Favorite Success
Talks about how out of necessity of not having her props. she blew up a bunch of balloons and did a "create your own story" for the audience which turned out being a huge success!
Parting Advice
Play. Have fun.
Recommended books and resources:
Note: Many of the links in this section are affiliate links, meaning we earn a small portion of any sales. If you're enjoying our podcast and decide to purchase one of the recommended resources or books, please consider using our affiliate links to help support the work we're doing here at the Successful Performercast. Thanks!
Resources:
Podcasts and audiobooks.
Books:
Purple Cow and The Icarus Deception by Seth Godin
The War of Art by Steven Pressfield

Where can we find Annie Banannie?
thesecretlifeofyourlibrary.com
facebook.com/balloonstoryteller
Dr. Electric Takes Over the World on Amazon