Best of Episodes: Publicity and Magic with with Joe Diamond!
These are show notes taken from an audio interview. To listen to the actual interview, please use the player above.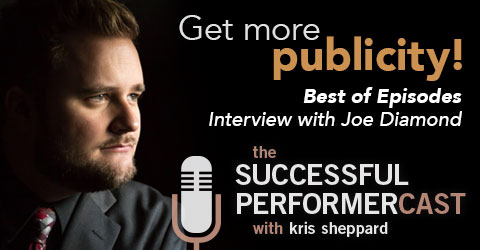 I'm currently taking a holiday break from my regularly scheduled episodes, so for the next few weeks, I'm running my six most downloaded episodes. I'll be back on the first of the year with brand new episodes! In the mean time, enjoy these "Best of" episodes.
In this episode, I talk to paranormal magician Joe Diamond. We go into detail on publicity stunts and how to get the press to notice! We also have an interesting discussion on "Pay What You Want" pricing structures and he mentions an awesome resource that you probably already have but just aren't using!
Joe Diamond is a paranormal magician from Chicago Illinois. Just in his twenties, Joe has been able to turn his fascination for the paranormal into a full time career and has an amazing understanding into the workings of the strange & bizarre, often defying the boundaries between what we assume can and can't be done.
He was the youngest First Place winner of the "Close Up Magic Classic," an award given in Colon Michigan, the Magic Capital of the World and now performs his paranormal magic all over the country for private parties, corporations, and theaters.
Four years ago, Joe performed the world's largest mind reading demonstration: completing a 33 acre cornfield maze while blindfolded, finishing in less than three hours. In fact, with his public demonstrations, Joe has been able to get more attention from the press lately than a good old fashioned Hollywood scandal.
Magician Jay Sankey says it best" "Joe has great skill, a marvelous sense of humor and more energy than any other four magicians combined! What more could you want?"
Success Mantra:
Dream like you'll live forever, live like you'll die today. — James Dean
Failure Story:
Joe tells us about a specific "hell gig" story that he had to endure where he was getting paid too little for too much, and was generally just a horrible experience.
Favorite Success:
Solving the world's largest corn field maze blindfolded!
Publicity!!!
• Talks about his first venture into getting publicity.
• Tips where he got his idea for the blindfold corn maze walk. Hint: It's Corinda's!
• Putting different spins or angles on otherwise "classic stunts."
• If you fail a stunt, the only people that will know are you and the reporter. And you can always find another reporter!
• Getting the word out about your stunt.
• Getting the photos and videos of your stunt.
• Be safe! Do your due diligence. You don't have to do something dangerous. Joe has never done anything dangerous in his stunts.
Other Topics Covered
• Always being ready. "What would I do if I had to do it tomorrow night?"
• Touch on Joe's venture into a "Pay What You Want" pricing structure.
Publicity Consulting
Joe offers consulting on publicity and publicity stunts. Shoot him an email for more info.
Recommended books and resources:
Note: Many of the links in this section are affiliate links, meaning we earn a small portion of any sales. If you're enjoying our podcast and decide to purchase one of the recommended resources or books, please consider using our affiliate links to help support the work we're doing here at the Successful Performercast. Thanks!
Resources
Use your camera phone to get video of your show and video testimonials.
"Do you mind if we record this next trick?"
"Would you mind if I get a quick 10–20 second review of my magic?"
Business Books
Buzzmarketing by Mark Hughes
Little Red Book of Selling by Jeffrey Gitomer
Thinker Toys by Michael Michalko

Magic Books
Magic by Design by John Carney (Out of Print)
The Shiels Effect by Tony Shiels (Out of Print)
The Jinx by Theodore Annemann
Where can we find Joe Diamond?