Podcast: Play in new window | Download (Duration: 1:05:25 — 52.6MB)
These are show notes taken from an audio interview.
To listen to the actual interview, please use the player above.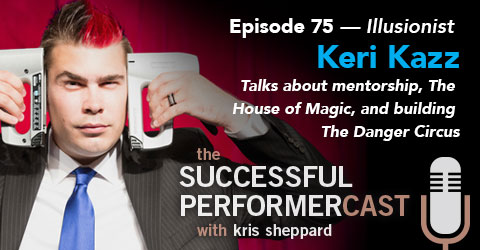 In this interview, Keri Kazz talks about being mentored by Franz Harary, The House of Magic, and then working with Thom Britton and Chuck Clark in creating The Danger Circus.
Keri Kazz is a legend of "Detroit's Motor City Magic Scene." At 23 years old, he's already accomplished more than most magicians have in their entire career. Sure he's done strolling magic in restaurants and presentations at trade shows for corporate clients, but he's also developed an illusion show that has taken him around the world playing stages in China, India, Spain, and Taiwan as part of Franz Harary's Mega Magic Touring Show.
Currently, he's gearing up to go on tour with The Danger Circus, that features fire eating, glass walking, knife juggling, dangerous escapes, and a unique blend of illusion and sketch comedy.