Podcast: Play in new window | Download (Duration: 1:03:01 — 50.7MB)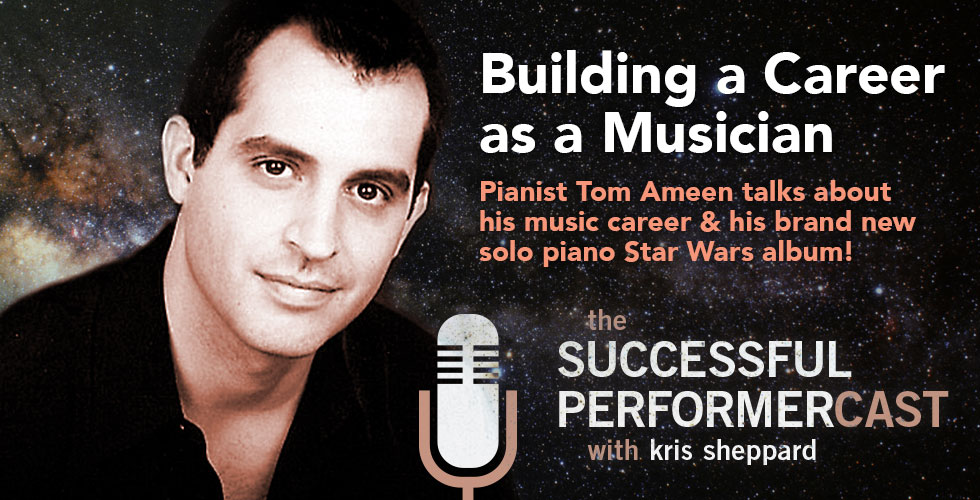 In this episode, Tom Ameen talks about how he's built a successful career as a classical pianist. Topics include restaurant gigs, getting private parties, and selling albums. He also talks about his new solo piano Star Wars album, which is awesome!
Tom has played piano since he was 12 years old and studied under acclaimed pianist James Tannenbaum at the Cleveland Institute of Music.
He's gathered a wonderful following around Los Angeles which has afforded him many opportunities to collaborate with some top names like Grammy nominated artist Jim Brickman, performing on many of his albums. Tom even found himself performing as J.J. Abrams' personal pianist.
He's recorded many albums with Canadian-based label Somerset Entertainment, some of which are Wal-Mart exclusives, others to be found at theme parks around the country. My favorites are his albums that he's put out which contain music from the Disney theme parks, and these have charted on the Billboard Top 10! Probably the most exciting of all, Tom has just released his latest album, Journey to the Stars which features renditions of his favorite themes from the Star Wars movies!