Podcast: Play in new window | Download (Duration: 1:00:35 — 48.7MB)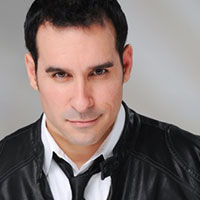 These are show notes taken from an audio interview.
To listen to the actual interview, please use the player above.
In this interview, Daniel Martin drops some serious knowledge on how he's been able to make a living performing magic! Among other things, we talk about overcoming fear, performing in restaurants, and how to find where you fit as an entertainer.
Daniel Martin is a magician, escape artist, and comedian.
He's toured multiple shows around the country at colleges and university campuses, and his work has been featured on television networks like CBS, NBC, ESPN, and VH1.
For two years in a row, he's been ranked as one of the top 3 touring acts in the country by event producers and activity directors. He was selected as "Best Live Performer" in 2012, was four times nominated for "Entertainer of the Year" and three times nominated for "Best Male Performer" all by Campus Activities Magazine in which he's also been featured.
He has a highly interactive show that brings comedy and amazement alike.