Podcast: Play in new window | Download (Duration: 57:55 — 46.6MB)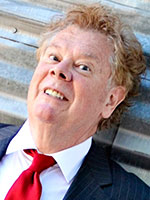 These are show notes taken from an audio interview.
To listen to the actual interview, please use the player above.
In this episode, Nick Lewin and I talk about corporate magic, customizing your show for your client, and pitching your ideas to them. We also talke about putting a twist on magic classics and there's even a little performance advice taken from Billy McComb!
Nick Lewin is a magician, comedian, actor, host, and keynote speaker from Austin Texas, originally from London.
He's certainly run the gamut, being featured on countless TV shows as both a magician and actor, he's performed for English royalty, presidents, hollywood celebrities, and fortune 500 companies. Companies like Apple, AMD, AT&T, Bank of America, Coca Cola, General Electric, and Nutrasweet. He's also been featured in top showrooms around the country including Vegas with his One Man Show and has also performed on every premium cruise line.
In addition to this, he also finds time to create products for and teach the magic industry, contributing his thoughts to multiple outlets, on the industry, performance, and business.
Entertainment Today says "Lewin blends impeccable sleight of hand with a razor sharp British wit."