Podcast: Play in new window | Download (Duration: 1:16:23 — 61.4MB)
These are show notes taken from an audio interview.
To listen to the actual interview, please use the player above.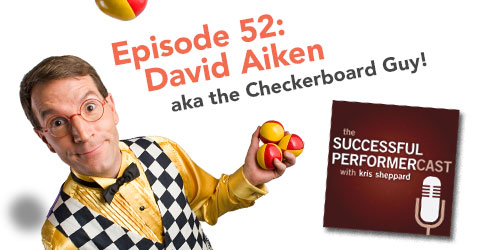 In this interview, David Aiken talks about his juggling career, branding, interjecting comedy into real life, and a great story that involves him on the Barenaked Ladies Ships & Dip Cruise!
David Aiken, AKA the Checkerboard Guy is an award-winning interactive comedy juggler from the Great White North!
Performing for corporate events, cruise lines, and at other various venues, David has traveled the world with his act including North America, Austrailia, Europe, and Asia, and even learned to perform his act in Japanese since he was invited back there so often. He's performed for clients such as Air Canada, Honda, the Canadian Football League, The National Hockey League, and even had the opportunity to perform for Canada's Prime Minister.
Royal Caribbean International says that David is "A wacky crazy man that will keep you laughing! and a delight to work with!"