Podcast: Play in new window | Download (Duration: 1:06:30 — 53.5MB)
These are show notes taken from an audio interview.
To listen to the actual interview, please use the player above.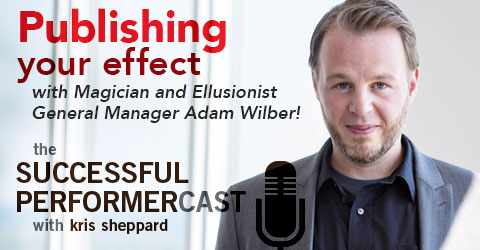 In this episode, Ellusionist General Manager Adam Wilber talks about the ins and outs of publishing your own effects to sell. He also tells some of the ways he's drumming up his own business and booking gigs.
Boasting clients like CBS, NatGeo, SyFy, C|Net, and Discovery Channel, Adam spends his time in the corporate arena giving his clients "entertainment that doesn't suck" with both close up and stage magic.
Not only that, but Adam is also the General Manager for Ellusionist internet magic shop having created a number of products in their catalog including Pyro, which allows you to shoot fire from your hands, and The Working Man, a video which takes you through some business strategy to help you start making money performing magic.