Podcast: Play in new window | Download (Duration: 1:12:28 — 58.2MB)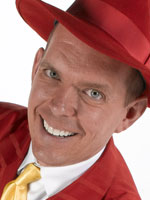 These are show notes taken from an audio interview.
To listen to the actual interview, please use the player above.
In this interview, Doug Scheer tells us all about creating themed educational magic shows!
Doug Scheer is a magician and an expert at creating customized educational shows.
He'd originally worked in the auto industry for two decades creating custom magical presentations for General Motors.
And now he's found success in offering 13 different shows to the educational school show market creating and performing shows that teach lessons as well as amaze!