Podcast: Play in new window | Download (Duration: 1:19:38 — 64.0MB)
These are show notes taken from an audio interview.
To listen to the actual interview, please use the player above.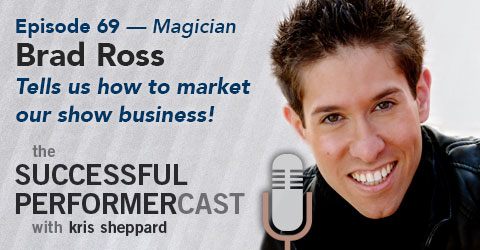 In this interview, Brad Ross tells us how to market our show business and holds nothing back! My head is still reeling with all the knowledge Brad dropped. Also, find out how you can get a free 30 minute phone consult with Brad!
For six years, Brad toured with Disney Live in Mickey's Magic Show. This alone has taken him to 5 continents, 25 countries, and allowed him to perform in 16 languages. In fact, he's entertained literally millions of people worldwide!
He's been featured in over 500 national and international TV appearances including the Rosie O'Donnell Show, FOX TV's Good Day New York, Decco Drive, and on the Disney Channel.
He can now be seen touring his brand new illusion show "Brad Ross' Unbelievable," where he brings a new approach to the classic theatrical art, the art of magic.
Finally, Brad is also a well-known author, speaker, and marketing guru to magicians and other entertainers worldwide. He helps fellow entrepreneurs live their dreams through his seminars and training courses including his flagship course, "The IT Factor: Secrets to Skyrocketing Your Career!"