Podcast: Play in new window | Download (Duration: 1:08:20 — 54.9MB)
These are show notes taken from an audio interview.
To listen to the actual interview, please use the player above.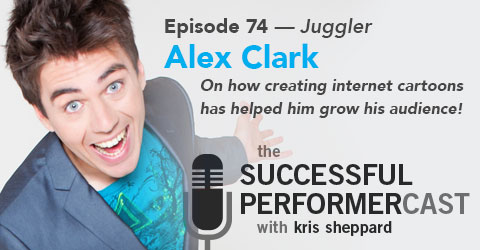 In this interview, Alex Clark talks about how creating internet cartoons has helped him to grow and keep in touch with his audience when he's not performing! He also talks about some of the ins and outs of working with an agent.
With his show that contains jaw-dropping tricks, quick-witted comedy, and crazy antics, Alex Clark has traveled around the globe performing at university campuses, festivals, and on other stages. He's earned two People's Choice Awards and was voted Best Novelty Act and Fastest Rising Star in the college market. He's a comedian that stands above the rest, but that's probably because he's up on a ladder!