Podcast: Play in new window | Download (Duration: 58:54 — 47.4MB)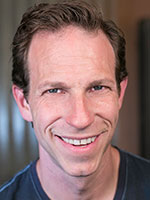 These are show notes taken from an audio interview. To listen to the actual interview, please use the player above.
Jonathan Levit is like the joker in a pack of cards. Magician. Actor. Television Host. Emcee. Producer. Consultant. Lecturer. These are all hats that he's worn throughout his career and he's been able to weave his love for magic throughout all his creative endeavors.
He's traveled the country performing magic for private parties and on cruise ships. He's a frequent performer at the Hollywood Magic Castle. He's consulted for television and movies teaching the likes of Steve Carell, Jessie Eisenberg, Jack Davenport, David Duchovny, and Olivia Wilde how to do magic.
You might recognize him from some of his guest star roles on The X Files, FlashForward, The Others, and the Huntress, or as a host for The Discovery Channel, The Science Channel, The Biography Channel, or on VH1's Celebrecadabra.
I think Teller, from Pen & Teller says it best, "Jonathan is funny, elegant, and disturbingly smart. Like something cuddly with really sharp teeth."